New York State
Opinion: The collusion between police and ICE denies immigrant New Yorkers their human rights and humanity
Here's my personal story and why the New York For All Act should be signed into law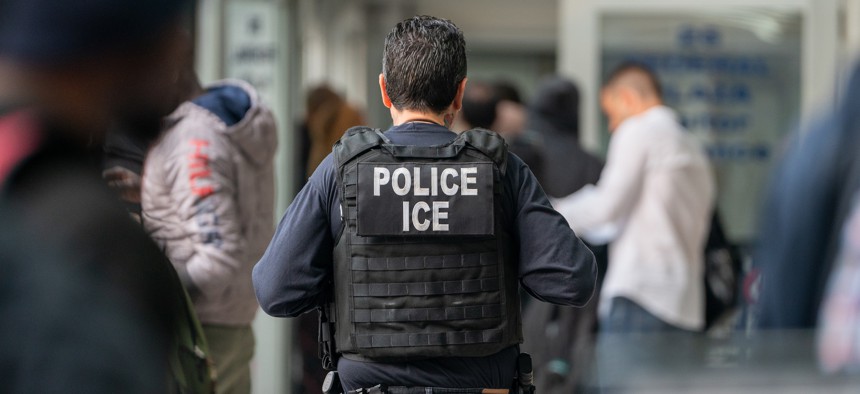 When I came to the U.S. in 2014 from Nigeria to study biochemistry at SUNY Oswego, I was full of hopes and dreams. I never imagined that an interaction with police would lead me to a years-long fight for my freedom and future. 
In 2020 my life changed dramatically when I was arrested and faced a criminal charge. I wanted to contest it but I was worried about my immigration status. I looked online to see if Immigration and Customs Enforcement agents would be able to arrest me in court and found out that New York had passed a law to keep ICE out of New York courts and that a New York court had also forbidden local law enforcement from arresting and holding people for ICE. This made me feel like I could exercise my rights.
In 2022, I went to Oswego County Court for a hearing before the judge in my case. I voluntarily left my home to attend this hearing because I wanted to resolve a case that had thrown my life off course. While I was standing in the hallway, I was approached by 2 officers from the Oswego Police Department who said they had an ICE warrant and that if I didn't come with them, they would take me by force. I was confused about how they could do this as local police, since they do not have the authority to arrest someone on the basis of an ICE request alone. I didn't want anything violent to happen so I went with them. 
I was eventually taken to the Buffalo Federal Detention Facility by ICE agents where I was detained for ten months as I fought for my release. I got out of detention in March. Now as I continue my fight to stay in the country and continue my education, I am also speaking out so more immigrant New Yorkers don't have to go through the ordeal that I did. 
I am urging the legislature to pass the New York For All Act (A.5686-Reyes / S.987-Gounardes) and Governor Kathy Hochul to sign it into law. This vital bill would prohibit local and state agencies from assisting ICE and members of the Customs and Border Patrol in searching for, arresting and deporting immigrant New Yorkers. 
It bars state and local officers from enforcing federal immigration laws, funneling people into ICE custody, and sharing sensitive information with federal immigration authorities. And it bars ICE and CBP from entering non-public areas of state and local property without a judicial warrant. It also ensures that people in custody are given notice of their rights before being interviewed by ICE and would start to limit ICE and CBP access to state information databases.
If the New York for All Act had been the law in 2022, it would have made a world of difference to me and very likely kept me out of detention. Those months in ICE custody were a nightmare. Other detained people and I were often denied time outside or in the law library that we were legally entitled to, served moldy food, and when the power went out in the winter left us in the cold for hours. I saw many other people in detention treated brutally. Their stories are even worse than mine. 
Additionally, during that time I was brought back to the Oswego jail for several days to appear in my criminal case. At the local jail, I was assaulted and injured by correctional officers who kept me in a cell covered in swastikas, forced me to shower barefoot in a moldy shower and refused to give me my prescribed medication for clinically diagnosed anxiety. These officers said derogatory terms towards me like "his dumb ass is going back to Nigeria," which made me feel there was no separation between them and ICE.
I never expected this kind of treatment in New York. I thought New York was a state that protected the rights of all its residents but in fact, the state is behind when it comes to protecting immigrants. New York must join states like California, Colorado, Illinois, Oregon and Washington that have strong laws disentangling local and state officers from ICE and CBP. We must take action now to send a clear message that we stand by immigrant New Yorkers and will respect their rights. 
The time is now to truly protect immigrant New Yorkers and prohibit all local agencies from participating in ICE's cruelty. I do not want other New York immigrants feeling too scared to exercise their rights. Constantly living with fear and anxiety of being subjected to inhumane acts by local authorities meant to serve and protect. What happened to me should be stopped from happening to them. We must pass New York For All now!