Opinion
Opinion: Cities should consider revitalization through adaptive reuse
The benefits include costs savings and improved quality of life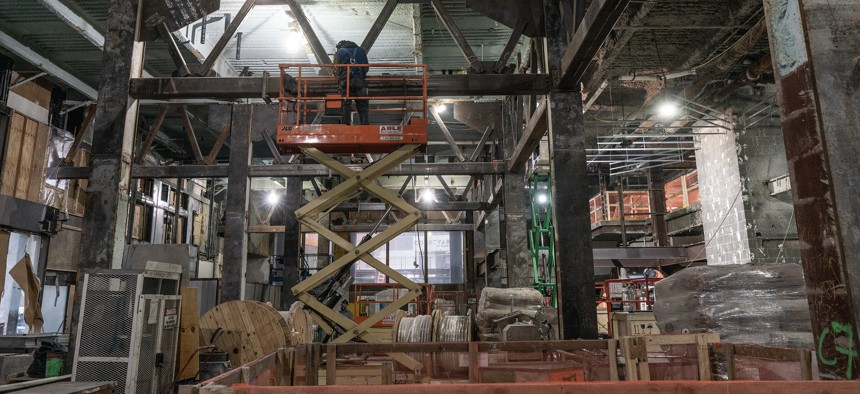 Fostering a lively downtown is one of the pivotal responsibilities of municipal leaders.  Downtowns may look different in every community, but they all represent public and private investments in the long-term health of the community. When a city has a bustling central hub, it creates economic opportunities, spurs growth, and fosters a sense of belonging among residents.
Improving or revitalizing a city's downtown doesn't have to follow the typical playbook. Indeed, more and more municipal leaders throughout New York are choosing an alternate route: adaptive reuse. That is, realizing their downtown's full potential by creatively rethinking and reusing existing infrastructure.
Syracuse is a prime example. The city recently converted a historic four-story factory into a mixed-use property with over 100 apartments and ground-floor commercial space. Similarly, the city – with support from the state – transformed the landmark Hotel Syracuse into the 21st Century Marriott Syracuse Downtown.
An adaptive reuse approach provides a variety of upsides, from eliminating vacancies and blight, to promoting sustainability and walkability, to major financial savings for municipalities and taxpayers. In the wake of the pandemic, where a significant portion of the labor force now works remotely, numerous office buildings in New York's larger cities stand empty. However, this predicament presents an opportunity when viewed through the lens of adaptive reuse. By converting unused office spaces into housing, particularly in areas grappling with a housing crisis like New York City, we can address multiple challenges simultaneously.
Recognizing the potential of adaptive reuse, the New York City Department of Planning has embarked on exploring methods to transform outdated office space into other potential uses, especially housing. Meanwhile, the city's Office Adaptive Reuse Task Force published a study with recommendations that extend beyond New York City and are applicable to other municipalities. These include revisiting regulations concerning property conversions and focusing on centrally-located, high-density parts of the city that currently lack sufficient housing.
Adaptive reuse is also a way to revitalize downtowns while also advancing larger sustainability goals. This is because it allows for the reuse of existing materials rather than requiring new lumber, concrete, and plastics. Moreover, adopting an adaptive reuse approach can significantly reduce energy consumption compared to constructing entirely new developments. In recognition of the role that adaptive reuse plays in meeting sustainability goals, in 2022 the New York State Division of Housing and Community Renewal introduced the Clean Energy Initiative Program, providing funding to building owners committed to undertaking adaptive reuse projects.  
Another benefit and highly valued aspect of adaptive reuse is that it can enhance the walkability of municipalities. Numerous cities across the state were constructed during an era when automobiles were less prevalent – or even nonexistent. As a result, older properties are clustered together, fostering a compact layout. Municipal leaders can leverage this pedestrian-friendly design by revitalizing these historic buildings and establishing mixed-use downtown areas.
By investing in existing residential, commercial, and transit infrastructure within walking distance, a city can offer its residents an improved quality of life, reduced pollution, and a thriving local economy. Consider Rochester, whose Downtown Revitalization Initiative is planning for the rehabilitation of its historic Cox Building, culminating in 85 new residential apartments and three retail storefronts – conveniently situated across the street from the RTS Transit Center.
Furthermore, the financial incentive is another compelling reason for municipalities to embrace adaptive reuse. It's no secret that vacant properties diminish the taxable values of surrounding properties, increase the risk of mortgage and tax foreclosures, and can initiate a domino effect. Additionally, abandoned properties impose substantial maintenance and abatement costs, such as demolition expenses. However, by repurposing existing infrastructure, municipal leaders can eliminate blight, avert costly repairs, and significantly save on construction expenses.
As New York's cities prioritize the development of their downtown areas now and in the future, adaptive reuse should be a top consideration. It is a proven strategy that yields multifaceted improvements for a city, offering numerous financial and non-financial benefits.