Opinion
Opinion: Human services workers remain unseen and unheard in NYC budget
In the fiscal year 2024 budget, only $40 million was invested into the city's human services workforce, failing to provide the sector's call for a 6.5% cost-of-living increase.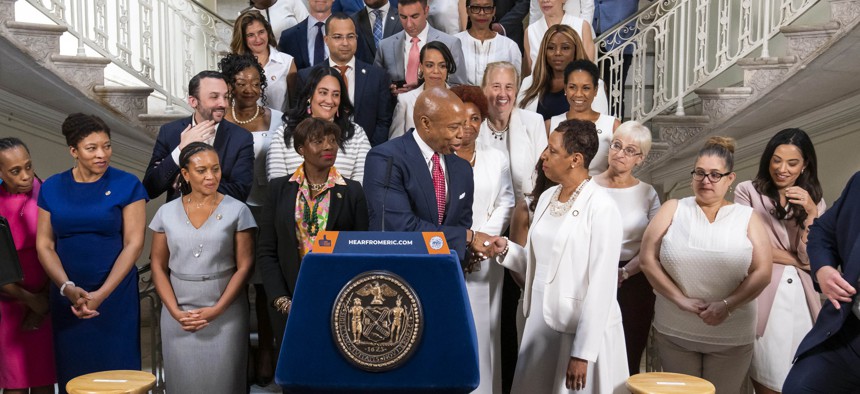 At a recent community conversation hosted by New York City Mayor Adams in Washington Heights, I had the opportunity to ask the mayor how he is supporting the human services workforce, and whether there will be wage increases for nonprofit human services workers in the fiscal year 2024 budget. He replied that when the budget comes out, it will show that he heard us loud and clear. 
The next day, the handshake agreement for the budget occurred, which included just $40 million for a human services workforce investment, significantly less than the sector's call for $200 million to provide a 6.5% cost-of-living adjustment to our workforce. And the promise of an additional $50 million next year still does not come anywhere close to our total ask, nor is it a multiyear deal comparable to the one provided to city employees.
Mr. Mayor: You clearly did not hear us.
You didn't hear us despite the dozens of testimonies at the executive budget hearing, 50 executive directors sleeping outside of City Hall, hundreds of emails and phone calls, the topic trending on Twitter twice and over 6,000 human services workers gathering outside of City Hall.
Again and again, our sector's calls for a livable wage have been overlooked, dismissed and undervalued by city leaders who fail to recognize the critical role these workers play in supporting our communities. And it's happened yet again with this budget.
The human services sector, crucial to our city, is on the brink of collapse due to years of divestment and low pay, resulting in high staff turnover and an alarming 30% vacancy rate. Burned out and financially strained, many workers are forced to rely on the same SNAP and Medicaid benefits as those they serve, with some on the brink of eviction or even experiencing homelessness. In a city increasingly reliant on social services, it is unacceptable to undervalue those delivering these vital services on the front lines.
At Urban Pathways, our staff provide care to New Yorkers experiencing homelessness and living with serious mental illness 24 hours a day, 365 days a year on behalf of city government through contracts with the New York City Department of Homeless Services, the Department of Health and Mental Hygiene and the Human Resources Administration. The sector extends well beyond these services, providing access to food, child care, mental health services and senior services, among other resources that our communities and our city rely on.
This administration has made multiyear, multibillion-dollar deals to dramatically increase wages for other sectors – yet human services workers remain ignored. We are tired of hearing that there is not enough money. If there is $3 billion to raise pay for the New York City Police Department, $4.4 billion to raise pay for city employees and $6.4 billion to raise wages for teachers, surely there is enough money to raise wages for human services workers too, with an initial ask of $200 million. A teacher with a bachelor's degree is set to earn a starting annual salary of $72,349, while our equally qualified case managers start at a meager $37,000. This glaring disparity can no longer be ignored.
Imagine waking up in a city devoid of the essential services that knit our social fabric together. No more shelters for those experiencing homelessness, no food pantries for those struggling to put meals on their tables, no mental health services for those grappling with life's challenges. This is where we are headed. We cannot afford to undervalue those who serve our communities. 
In the mayor's budget announcement, he said that the mission of the budget is to set priorities, including "support for New Yorkers in the greatest need." But the numbers make it clear that this is not the case. The 125,000 human services workers, who keep the city that never sleeps running, deserve more than empty rhetoric. They need a cost-of-living adjustment and a living wage.
This budget leaves us wondering what it will take for the mayor to hear our cries for just pay for the human services workforce.