Opinion
Opinion: Looking at Women's Equality Day from behind bars
Women are the fastest growing segment of the incarcerated population, and along with gender-expansive people, often punished more harshly than others in prison.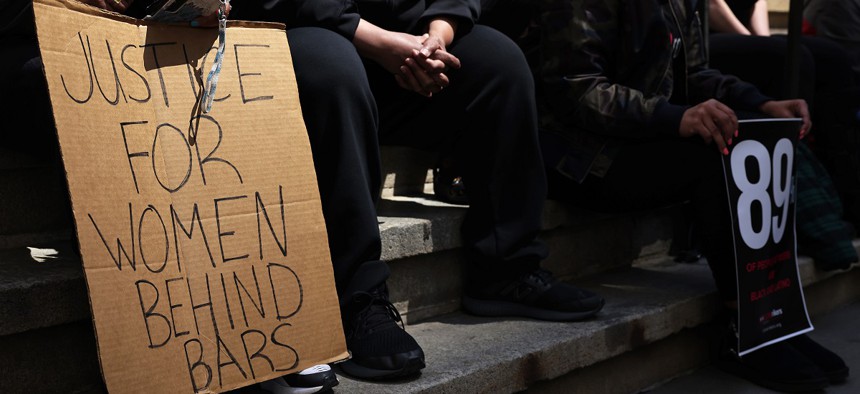 With more than one million women experiencing incarceration in America, women are the fastest-growing segment of the incarcerated population, increasing at 
nearly double the rate of men since 1985. While far fewer women are still incarcerated than men, this rapid growth rate is cause for alarm and disproportionately impacts children. Women are often the primary caretaker for their children, which means more children are suffering the loss of their mother to prisons and jails. 
The origins of America's system of mass incarceration was built to incarcerate men. Incarceration emerged as the dominant form of punishment in American society around the end of the eighteenth century. Scholar Angela Y. Davis has noted, deviance in men was generally regarded as criminality, while deviance in women – particularly white women – was seen as insanity. Men who broke laws were put into prisons, while women who did the same were put into psychiatric units. 
Over time, the U.S. prison system only grew while mental health care shrunk. More people of all genders were put into the carceral system and the percentage of those people who are women and gender-expansive has grown.
Saturday marked Women's Equality Day, which commemorates the adoption of the 19th Amendment and celebrates equal rights for women. Yet women and gender-expansive people are often punished more harshly behind bars. NPR and the Medill School of Journalism at Northwestern University collected data from prisons across the U.S. and found that women were disciplined two to three times more often than men for more minor violations of prison rules. 
Conditions in prisons across New York state are unbearable for everyone behind bars and women are no exception. During a summer with sweltering heat and rising climate change, the aging infrastructure of New York prisons makes it impossible for many of the women at Bedford Hills, where I was incarcerated, to keep cool. There is no air conditioning and limited access to fans. And while I am grateful that the Department of Corrections & Community Supervision allowed us to provide the women there with larger 8-inch fans to stay cool, this will not solve the larger problem. Moreover women and LGBTQ people face increased levels of sexual assault while incarcerated and have limited access to gender-affirming healthcare. These problems are rooted in the simple fact that there are too many people behind bars. Improving conditions for women and gender-expansive people behind bars must center concerted efforts to reduce the prison population.
New York State lawmakers are currently considering a slate of bills that would reduce the prison population, decrease recidivism, and reform parole. These bills — the Earned Time Act, the Second Look Act, and the End Mandatory Minimums Act would give judges more discretion to issue lower sentences and review the sentences of people serving lengthy prison terms. The Earned Time Act would allow people to earn more time off their sentences, while protecting time from being forfeited due to frivolous disciplinary infractions. Bills which fix our broken parole board system include the Elder Parole and Fair & Timely Parole bills, ending the habitual denials of parole to women like the ones I was incarcerated with.
Among the countless women routinely denied parole, one of these women is a domestic violence survivor incarcerated the same year as I was. While I came home, she remained languishing there for another two decades while being denied parole four times over eight years, beyond her mandatory minimum sentence. She's growing old behind bars, and she's no less safe to release simply because she cannot change the nature of her crime.
Many die while incarcerated after having been denied parole year after year simply because they cannot change the nature of their crime. Many women serving time in prison have been there for decades, earning degrees, participating in programs, and acting as mentors to others. They deserve a real opportunity at release. These parole and sentencing reform laws would bring added benefits of growing the workforce and improving the economy statewide, reuniting more families, and lessening the crisis of aging in prisons.
Thousands of women in New York are celebrating this Women's Equality Day from behind bars. It's time we deliver them with meaningful sentencing reforms, parole opportunities, and conditions improvements to begin to undo the brutal system, one created in a broken notion of equality.