New York City
Opinion: The right to shelter makes New York stronger
Undermining the right to shelter in order to avoid housing asylum-seekers would be a betrayal of our city's values and leave us all worse off.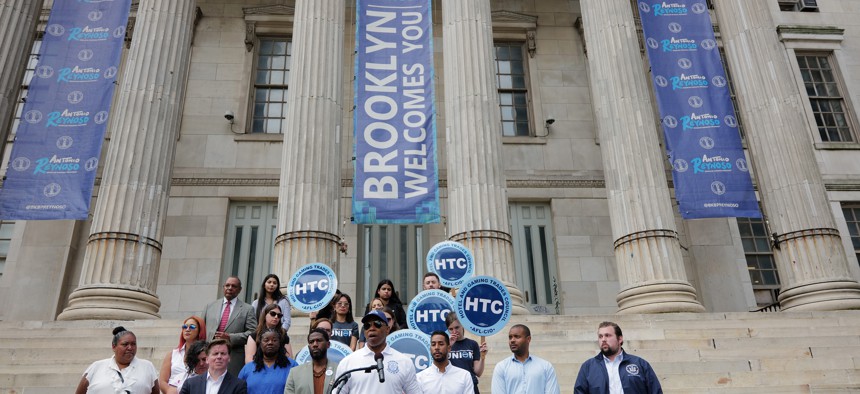 In 1979, the New York State Supreme Court ruled in Callahan v. Carey that New York City had a legal mandate to provide shelter under Article XVII of the state's constitution. Brought as a class action lawsuit on behalf of thousands of unhoused individuals, this landmark ruling established that homeless New Yorkers have a fundamental right to a bed and basic standards within the shelter system. 
While over 100,000 unhoused New Yorkers are living in our city today, New York City does not have anywhere near the same level of street homelessness as other American cities like Los Angeles or Portland. This is because our right-to-shelter mandate ensures beds are available and open to those who need them. This provides safe and clean conditions and creates more opportunities to connect people with critical services inside the shelter system. The right to shelter fulfills our city's moral responsibility to care for those in need and keeps New Yorkers off the streets, to all of our benefit. Despite the mandate's success, Mayor Eric Adams is attempting to undo the right to shelter.
As thousands of people have come to New York City due to the ongoing humanitarian emergency, this mayor has sought to weaken the right-to-shelter mandate through bureaucratic maneuvering and legal challenges. This administration has created a shadow shelter system outside of the Department of Homeless Services, for which they claim the right-to-shelter protections do not apply. This has resulted in this nebulous emergency housing network's inhumane conditions, including hundreds of people being packed into a single space with head-to-toe bed spacing, a lack of showers or air conditioning onsite and families being placed in congregate settings. To make matters worse, this mayor has also gone to court in an attempt to relieve his administration of his legal requirements under the Callahan decree and is dead set on enforcing his 60-day stay rule for asylum seekers. Let me be clear: these dangerous policy changes will undoubtedly lead to an increase in street homelessness.  
As chair of the City Council's Immigration Committee, I know that our city is strained for space as more people come to our city. I also know our state and federal partners must step up to provide funding, housing and policy solutions. However, abandoning the right-to-shelter mandate would relegate asylum-seeking New Yorkers to the streets and make it extremely difficult for them to become economically self-sufficient. The right-to-shelter mandate has been the cornerstone of our city's social safety net for over half a century for a reason. During this unprecedented humanitarian emergency, it is paramount we not only defend this right but also ensure it is fully enacted. The state Supreme Court ruled decades ago that the right to shelter exists in the state constitution. However, New York municipalities outside the five boroughs are attempting to turn their back on their obligations to assist with emergency housing capacity.  
Instead of infighting and attempting to roll back critical housing protections, our state and city should focus on providing tangible solutions to the 56,000 asylum-seekers now in our city's care. We should be a unified front on all levels of government calling for expedited federal work permits to ensure asylum-seekers can legally work. The city should find long-term housing solutions, both for asylum-seekers and long-term shelter residents, to free up space in the shelter system. The state should provide funding for legal services to help asylum-seekers fill out their legal applications so that they can gain work authorization and become less dependent on social services. These actions will help asylum-seekers in the long run and will not undermine one of our city's critical social safety nets. 
As the daughter of immigrants, it pains me to see our leaders engage in xenophobic rhetoric and walk back decades of policy that has guaranteed housing as a human right. Rolling back these critical rights, refusing their expansion across the state and undermining them to avoid housing vulnerable people who have risked everything to come to the United States is a betrayal of our city's values. At the welcoming door of our city, the inscription on the Statue of Liberty reads, "Give me your tired, your poor, Your huddled masses yearning to breathe free." We must heed these sacred words and uphold the values that make New York City the greatest place on Earth. 
Everyone has the right to housing in our city, and I am proud to be part of the fight to ensure that right is realized.