Nonprofits
More severe weather in NYC could have hidden dire effects, here's how we can build resilience
A collaboration of government and nonprofit institutions could mitigate the economic and social effects of climate change.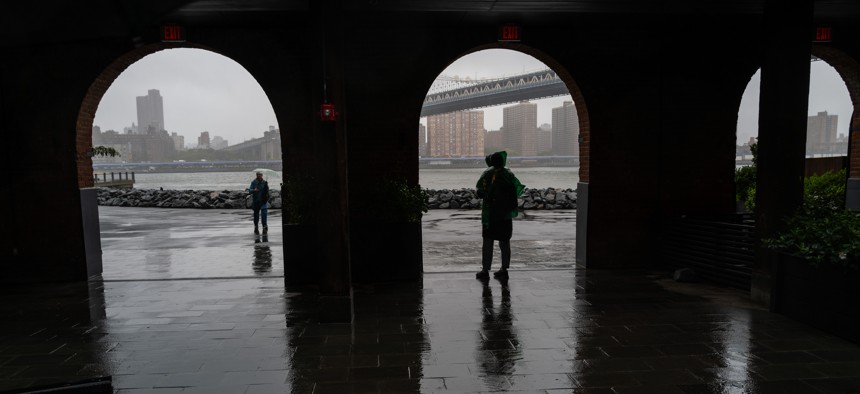 Government and nonprofit officials throughout New York City have a direct understanding of the impact climate change can impose on our communities. Over the recent years, a series of impactful hurricanes, sweltering summers and various other extreme events have placed numerous New Yorkers in jeopardy. 
The consequences of these events go far beyond scary weather and property damage. There are deep economic and social impacts, too – especially due to New York City's coastal location and population of nearly 9 million. 
Severe weather events have the potential to disrupt supply chains across the city, affecting even those local businesses that were spared from flooding or immediate repercussions. This ripple effect subsequently influences job stability. Moreover, climate change can exert adverse effects on public health. Elevated temperatures can result in heat-related illnesses, and similarly, other extreme weather events can give rise to respiratory ailments and facilitate the transmission of certain diseases. Such situations disproportionately jeopardize the most vulnerable residents of New York, such as children and elderly individuals, amplifying their vulnerability. Concurrently, the closure of properties due to extreme weather exacerbates homelessness in a city already grappling with this issue. 
These economic and social impacts are disproportionately affecting lower-income communities across our city. Neighborhoods like East Harlem, the South Bronx and Brownsville have aging infrastructure, fewer health care facilities and little green space – all of which exacerbate the effects of climate change. Inadequate infrastructure can't stand up to floods and hurricanes. Scarce health care facilities are overwhelmed in public health emergencies. And a lack of greenery leads to a higher urban heat island effect.  
Fortunately, there are tried and true strategies for mitigating the effects of climate change and ensuring lower-income neighborhoods are better equipped to face the consequences. One of those methods is collaboration: having New York City's institutions work together, operating as a whole greater than the sum of their parts. This coalition should entail government agencies like the New York City Mayor's Office of Climate & Environmental Justice and the city Department of Environmental Protection, which can shape important public policy and projects – say, making coastal regions more resilient. They can also provide regulatory frameworks and funding for smaller New York City governments, like individual boroughs. 
This coalition needs to include nonprofit environmental organizations as well. Groups such as the Natural Resources Defense Council, Sierra Club and the Environmental Defense Fund can conduct crucial advocacy work, mobilizing hundreds of thousands of New Yorkers. They can raise awareness about the social justice element of climate change. They also produce essential research about climate change, like impact assessments.
Academic and research institutions also conduct essential research. Columbia University's Earth Institute and New York University's Marron Institute of Urban Management can provide available data and insights to the city, helping inform smarter urban planning and policy analysis. 
Energy providers are a key part of the coalition. By adopting cleaner technologies, promoting energy efficiency and investing in sustainable infrastructure, these providers contribute to lowering greenhouse gas emissions and fostering a more sustainable energy landscape.
Last but not least, community representatives have an outsized role to play. Business owners, religious leaders and local residents can ensure the voices and interests of those most affected by climate change are heard. They can provide insights into lived experiences, identify local challenges and propose solutions. 
Once these groups decide to work together to address climate change, it becomes imperative to establish a concrete course of action. This starts by hearing out the interests, goals and concerns of all parties involved through workshops, brainstorming sessions and debates. These learning can then inform a shared vision – one that considers the environmental, social and economic issues holistically. Once the vision is established, stakeholders can formulate specific, measurable goals that align with well-defined actions. And before the work begins in earnest, ensure there are systems in place to evaluate progress – accountability mechanisms are key. It's essential to bear in mind that this endeavor requires time. In the initial years of collaboration, the aim is not to entirely resolve challenges; rather, it's about implementing successful pilot programs and policies that have the potential for growth.  
Combating climate change is no easy task. But with the right coalition and right approach, New York City – and other municipalities across the U.S. – can make a significant impact. By working together, institutions in the city can lower greenhouse gas emissions, build resilience to extreme weather, preserve natural ecosystems and prioritize green jobs.