Opinion
Opinion: When NYC floods, will our schools stay afloat?
Why our leaders need to prepare for the impending consequences of climate change.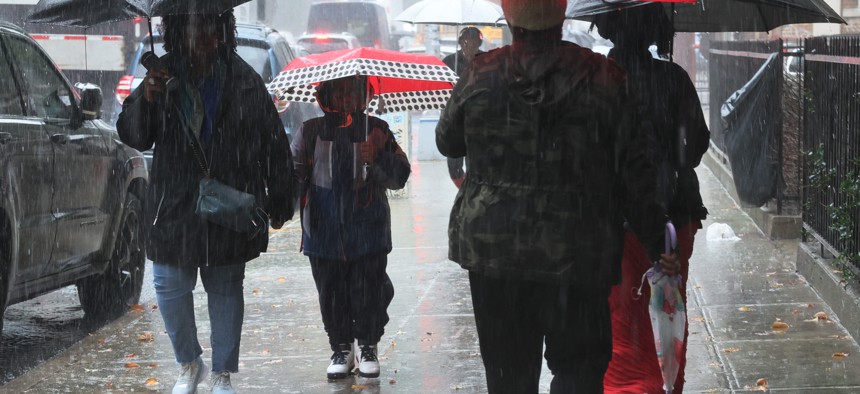 On September 29th, my commute to school looked like this– drenched in water from head to toe, I waded through flooded streets with a broken umbrella and soaking wet socks. With the wind pushing against me, even walking became difficult, and I slipped and fell on the pavement. When I finally reached the train station, I watched as water rushed in through cracks and windows, and my usual forty-five minute commute became almost two hours. My classmates had similar experiences, with most choosing to stay home and some telling frightening stories, like basement apartments destroyed and subway platforms filling up with water underground. This is not the first I've seen of climate change – this is only one manifestation of its destructiveness. In the Bronx, and specifically Melrose, where I live, it's been wreaking havoc for years. In the South Bronx, we are tucked away between two highways: the Bruckner and the Cross Bronx expressways. Thousands of cars use these roads daily and the pollution is funneled directly into our neighborhoods. Robert Moses used his political power to purposefully build these expressways in marginalized communities, displacing more than 1,500 black and brown families. He denied the legitimacy of the Bronx, destroying decades of culture and leaving our home in ruins. We are now nicknamed 'Asthma Alley' because our community has the highest asthma rates in New York City. The Bronx is routinely neglected and the city chooses to turn a blind eye to the systemic issues that plague our schools. We are also home to New York's poorest students. In District 7, where I used to attend school, 93% of students are low income and 10% are homeless.  Our schools are consistently underfunded and left without the resources to adequately offer support. Instead of investing in our school system, Mayor Eric Adams is proposing a billion dollar cut to our Department of Education budget. If we don't even have the means to help disadvantaged students, how will our schools face the climate crisis, which will only exacerbate socio-economic conditions? This is the reality – as they are, our schools are not equipped to confront natural disasters. School buildings are often old, decrepit, and deprived of needed maintenance. Some are more than one hundred years old. On Sept. 29, around one in four public school buildings were impacted by the rainfall. Moreover, our schools are so environmentally unsafe they are actually contributing to the problem. Buildings are New York City' biggest polluters, and schools dominate the top of the list. Every student deserves resilient schools to learn and grow up in, regardless of race, zip code or income. We deserve clean air and water, and healthy, thriving communities. We deserve representatives that care. Amidst a natural disaster, Mayor Adams kept schools open with unclear communication, forcing students, families, and teachers into chaotic, often dangerous situations. He seems to care more about militarizing the city with robocops, than dedicating time and effort into making our schools safe. Our state leadership is not taking this crisis seriously either. Rather than investing in climate and schools, Gov. Kathy Hochul gave $850 million to the Buffalo Bills for a new stadium – and later was accused of trying to gut  New York state's landmark climate bill that the environmental movement, with youth front and center, fought for. These are the people who make the choices that irrevocably change our city. Time and time again, our representatives have shown us that the only thing they represent is their interests. New Yorkers are tired of having their livelihoods jeopardized by a neglectful government. How many more floods need to happen before Mayor Adams and Gov. Hochul take action? Our leaders need to prepare for the impending consequences of climate change. They need to address the decades of mistreatment that have left parts of the city, like the South Bronx, at the mercy of global warming. New York City and state need to invest in the futures of young New Yorkers by renewing our commitment to a net-zero city, creating better facilities for public school students, and building clean and renewable energy to power a sustainable New York. We need action – and we cannot wait any longer.