Nonprofits
Inside Broadway delivers in-person and digital programming as COVID-19 subsides
The nonprofit is back on stage as it celebrates its 40th anniversary this year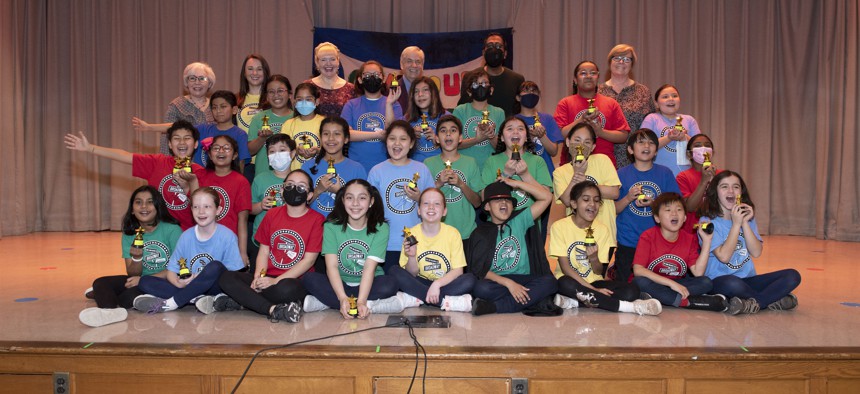 Inside Broadway is celebrating its 40th anniversary this year making musical theater accessible to underprivileged students across New York City. Offering popular touring shows, interactive programs and productions, Inside Broadway, like many other arts-centered nonprofits moved to digital platforms at the onset of the pandemic and has retained virtual programming with its return to in-person presentations. 
Since its earliest conception as the "Midtown Arts Project '' in 1982 by Executive Director Michael Presser, Inside Broadway began as a student ticket program offering free viewings of the musical Cats. The viewing program ran the entire length of Cats tenure of 18 years, additionally giving thousands of children the opportunity to view Broadway musicals from Dreamgirls, Beauty and the Beast, Footloose and Miss Saigon among others. Inside Broadway has since expanded to include numerous educational and performative programs to children, among them: the "Build a musical program," an in-school workshop taught by teaching artists; "creating the magic," which gives students the opportunity to watch a live demonstration at a Broadway theater and their in-house "touring production" which stages material from actual Broadway repertoires in school auditoriums, giving students the opportunity to experience live actors in performance. With over 100 schools partnered with their programs, Inside Broadway serves close to 100,000 children throughout all five of the boroughs of New York City. 
NYN Media spoke to Michael Presser, founder and executive director of Inside Broadway, to learn more about the nonprofit's return to in-person programming and the importance of arts education.
This interview has been edited for length and clarity.
Given Inside Broadway's emphasis on offering students live musical theater productions, how did the challenges of the pandemic affect your programming? 
Like everybody else we needed to immediately adapt. When schools were closed, it was no longer possible to do live programming so we immediately pivoted to remote learning and set up workshop sessions that could be broadcast live, taped and distributed to schools. We could not offer our 'creating the magic' program because the theaters were closed, so we brought these various people from Broadway to tape: from makeup artists to prop professionals who filmed demonstrations, to musicians and various virtual dance programs. There was a remarkable response which I had not anticipated. One of the interesting things that the teachers noted was, these programs gave the kids a break from other kinds of educational programming used in schools during the pandemic. It's hard to have children in front of a computer screen with classroom instruction for four or five hours a day. And particularly, some subjects don't really lend themselves well to video, but having the opportunity to have a dance class in the middle of the day through video, or a musical class or a scene study was a positive thing for the teachers and for the kids to experience. And since most of what we offered was also available on tape, children were able to view them with their parents who also participated in the programming. We were very fortunate to be able to find a way to continue and offer something that is different from what we normally offer through a different medium. But while video has its place, I would argue that there is nothing that replaces the live experience of a performance in school. 
With the return of in-person programming with the "Touring" and the "Creating the Magic" programs, how is Inside Broadway contemporizing musicals to advance important social messages to young children?
I think that one could look at the repertoire of Broadway and find very interesting issues that we raise in the productions that we present to students. In talking about American culture, a lot of times, it's difficult to actually pinpoint what American culture is. If we look at Broadway, we begin to see American life and American values: Broadway has always been a populist art form and it has always reflected the values that Americans hold very strongly. If you look at shows by Rodgers and Hammerstein, they're all about America and American values, or Irving Berlin and George Gershwin or contemporary people like Lydon and Bill Moran. As a populist art form, Broadway has always reflected American culture and through our programs we are extending that culture into the lives of the children in our schools. As far as younger children go, I think every audience is able to absorb the message of theater. Certainly, adults have a little bit of a higher level of absorption but many children are able to understand things that may be way above their age level. And I think one of the unfortunate things we do in our society is that sometimes we underestimate our audiences. Therefore, I think as producers of these programs, we have an obligation to present material that challenges and causes our audiences to think and to consider different ideas as they're being seen on the stage, which is just as relevant for children as it is for adults. 
Given the current onset of streaming services and the prevalence of digital media, how does this impact Inside Broadway's mission to retain musical theater's relevance to young children?
We are actually staying with video in some areas of our operations. For instance, we have now started a series each year, which grew out of the pandemic, in which we have various people who are connected with the Broadway industry present some elements of their job on video, which is enabling us to build a library that we use to supplement the programming that we do live in schools. I think the challenge is how do we use this medium to further the overall direction of our programming? [Broadway Backstage] was produced during the Cat's program years, over 30 years. The Broadway backstage series was used by our schools in the Ticket program and it was also used by the Cats company who distributed it across the country to many schools. In 1988, I took the video to the Soviet Union and I did a series of lectures on American theater and screened the Broadway Backstage video for students in Soviet theater classes as part of the Pioneer Palace program in Russia. That trip went to Moscow and to Leningrad, which is now called St. Petersburg. So Broadway Backstage has had a wonderful history of its own over all these years.
How is Inside Broadway a reflection of the innovation and the evolution of Broadway as an artform?
I think Broadway is now moving into a new and exciting direction because there is now a great emphasis on diversity in casting, but also in terms of management as well. I think we're also seeing a greater variety of programming. We must remember that Broadway is a commercial industry that is constantly thinking about what the public wants to experience; which goes back to the populist nature of Broadway. As far as Inside Broadway goes, I think that we are and have always been a reflection of this populism and the need that culture should be in the lives of our children. It's important that art in general be incorporated in the curriculum of schools, and by art, I don't mean just musical theater or just Broadway: visual arts, drama, dance – because it's been very well substantiated that children who participate in arts activity have a definite increase in their self-image, in their ability to collaborate with other children, to focus and stay in school. We certainly see that in our programs, while we're focused on musical theater, the benefit really extends to all the art forms. In this day and age where children are exposed to so much, to find things that actually impact them and really go deep into a child's experience is very rare.