Personality
Mitchell Draizin connects CUNY's LGBTQI+ students to career and peer-based mentorship
A Q&A with the president of the university's LGBTQI+ advisory council on advocacy and inclusivity within its 25 campuses.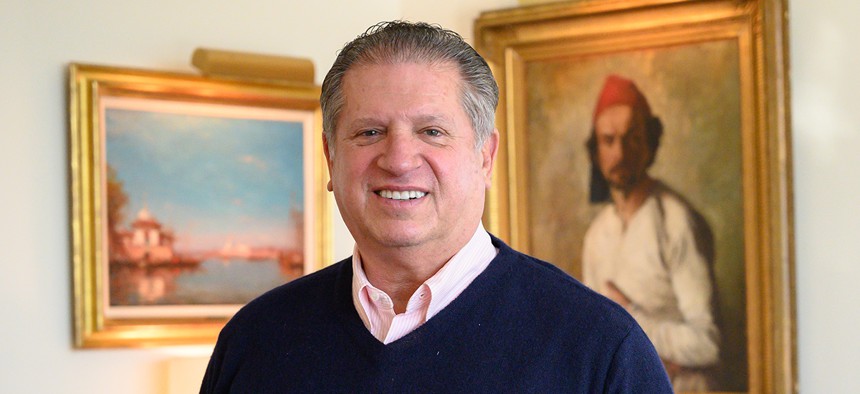 Mitchell Draizin, president of the City University of New York LGBTQI+ Advisory Council, spearheads the group's advocacy efforts across CUNY's 25 campuses, connecting students to mentorship and career opportunities. Draizin, in this capacity, oversees CUNY's LGBTQI+ Advocacy Academy, Student Leadership Program, and fellowship programs, allowing students to seek advice from their 160 council members. Draizin's work emphasizes the importance of LGBTQI+ mentorship and support from diverse career backgrounds, breaking down boundaries of intimidation and inaccessibility between students and industry leaders.
Connecting students to mentorship and career opportunities with LGBTQI+ friendly workplaces, Draizin said he hopes to inspire students to feel comfortable being themselves in the office and at home. Draizin spoke with NYN media to highlight the advocacy work of the council.
This interview has been edited for length and clarity.
Can you tell me about your professional background and what brought you to LGBTQI+ advocacy?
My background is in finance and real estate investment. When I first came to CUNY, I ran workshops on financial empowerment at Manhattan Hunter Science High School for about seven years. As I got to know the CUNY community and the CUNY students, I realized that many LGBTQI+ students hid their identities. So I proposed to the then vice chancellor of student affairs that we create an LGBTQI+ leadership program. The objective was to build self-esteem and confidence while creating a peer support group.
The underlying premise is that we're primarily dealing with immigrants and first-generation CUNY students who are getting a good education at an affordable price. Yet, they're often victims of imposter syndrome, where they're beat before they start because large corporations and industries are intimidating. That intimidating factor is a burden that we want to lift so they can prosper, know who they are, be who they are, and take advantage of the opportunities available to them, their family, and their community.
What services and support does the advisory council aim to provide students?
We are in our sixth cohort of the CUNY LGBTQI+ Student Leadership Program; right now, it's based out of Queens College. We've been accepting applications from all campuses; it's CUNY-wide. We have had at least 16 campuses represented in our program. I also created the advanced version called the CUNY LGBTQI+ Advocacy Academy. The purpose is to accept students with past and current experience in advocacy work, preferably in LGBTQI+ advocacy. With academic instruction and a master class of speakers, we expose these students to successful folks pursuing LGBTQI+ advocacy in industries ranging from nonprofit health organizations to Capitol Hill. 
Headquartered at the CUNY School of Professional Studies, we provide internship and full employment opportunities to our students. There are companies that many of our students might like to apply to but hesitate because they fear discrimination. They have a general impostor syndrome and think there won't be a support group or senior employees there for them. So in our CUNY Central newsletter, we've begun to highlight members of the council who are CUNY graduates and members who are employed by companies that are household names. We're highlighting the members of our council to tell a little about their story, their job, and how welcoming it is to work in that company for LGBTQI+ interns and employees.
I noticed that the council has over 150 members. Can you speak about the importance of this large team?
One of the things our council is there to do is provide role models of successful people and LGBTQI+ folks in all sectors of the economy. We have about 160 council members who offer advice, mentorship, inspiration, career prep, and beyond. So to the extent that they let the students know these people are available to talk to and who they are might help the students who are not yet out.
What we do is not academic, primarily experiential. And these are experiences that I think undergraduates don't get to experience. With no connection to these individuals, corporations, and institutions, I think it's somewhat intimidating to take a deep breath, make a phone call, or show up. If you feel that nobody's going to want to talk to you, It's not a tremendous motivating factor. So we're here to help them.
Since CUNY has multiple campuses across the metropolitan area, how does the council focus its efforts?
We have been basing it on campuses that have shown interest, but it will be open to all CUNY students. It's not uncommon at CUNY to have students at one college take courses at another, so there are channels to share these unique opportunities. CUNY Central's newsletter is where I'm focusing the effort to highlight members of the council to draw the students' interest. Just today, I was in touch with the dean at the School of Professional Studies, so we'll also start highlighting council members in their newsletter.
We also recently launched a summer internship program and continue to offer the David Mitzner Fellowship as of Spring 2021. This is named after an iconic civil rights and LGBTQI+ advocate since the 1960s. And in this case, we raise the money to fund CUNY students to work as paid interns in non-profit advocacy organizations.
What is the council looking forward to as far as goals in the future?
We intend to go forward with all programs. We have a few events coming up shortly, one is part of our speaker series, and one is held at the New York Historical Society. For our speaker series, the event will be covering LGBTQI+ experiences in politics and will be held at CUNY's Roosevelt House. As for the event at the Historical Society, It's a celebratory event for the partnership between them and the American LGBTQ+ Museum, where I'm a founding member. I want to highlight that one of the speakers is Gaudencio Fidelis. He's a very prominent internationally known art historian and curator from Brazil. And he was run out of Brazil a few years ago because he defied the authorities and curated LGBTQ exhibits, which to the chagrin of the authorities, were very well accepted. He was ultimately rescued by the International Rescue Committee, which saved people in the cultural community from repressive regimes. They arranged for him to come to New York and teach at The New School; sadly, his contract with them has ended, leaving him with no choice but to return to Brazil. Luckily, this fall, Jennifer Raab, president of CUNY Hunter College, hired him as an adjunct professor. 
We also have some impactful board members speaking with the academy students. Our next speaker will be Amanda Babine, executive director at LGBTQI+ advocacy organization Equality New York. Also, the executive director of Outright International, Maria Sjödin, will speak. Outright is the only American NGO (non-government organization) that the United Nations accredited. Then another speaker is Eric Marcus. He is a well-noted author on LGBTQI+ history. He not only wrote the book "Making Gay History," but his podcast is fascinating. He has an archive of oral history he started about 30 years ago. These were all the leaders at the very beginning of the LGBTQI+ movement, and most of those interviewees are no longer with us.