Unions
Kyle Bragg: The 32BJ president's exit interview
The union leader discusses his decision to step down and his many years of service to the labor movement.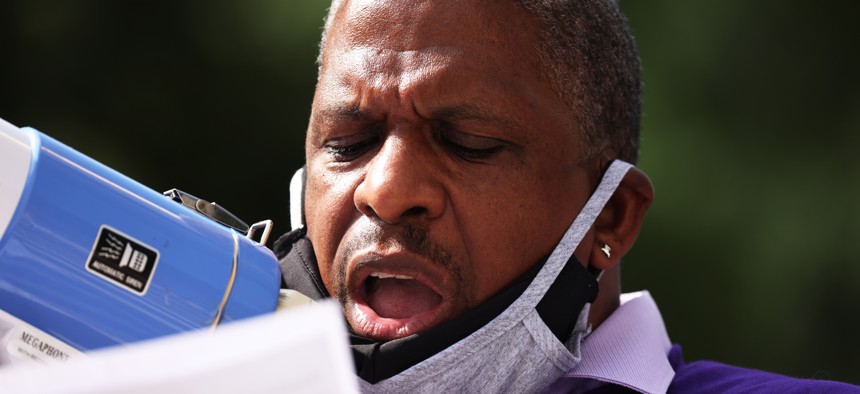 Kyle Bragg announced Wednesday that he was stepping down as president of Local 32BJ of the Service Employees International Union, one of the most influential labor unions in New York. Bragg first took on the role in 2019 after four decades of service at the union, succeeding former president Héctor Figueroa after his untimely death. As president, Bragg wielded the union's influence to score political and legislative victories, such as electing City Council Member Adrienne Adams to the Speaker. Bragg will be succeeded by Manny Pastreich, outgoing secretary-treasurer for 32BJ. Before he heads off into retirement, City & State spoke with Bragg about his decision to step down and his years of work at the union. 
You were elected president in 2019, it's been 3 short years. Why the decision to retire now? 
Well, brutally honest. My retirement plans were for February of 2020. Unfortunately, the passing of my dear friend and brother and president - Héctor Figueroa - changed that because I had to then assume the presidency. And I needed to remain because right in front of us were contract negotiations for 19,000 of our commercial workers here in New York and I knew I had to lead that bargaining as well. Then we came into a pandemic and so I felt it incumbent to remain as president and lead the union through one of the most tumultuous periods that this union, or the country, has seen. So with that focus as well, I've felt that we've gotten through a period in which the union is in a very solid position in every conceivable area. We've grown during the period of a pandemic, which I don't know of any other union that could stake that claim. We won important legislative victories and key electoral races throughout our jurisdiction, which further cemented our ability to win for workers and build power for our union and for workers across the East Coast. So with that, and having such an incredibly talented, smart, experienced leadership team, it was a perfect time for me to retire. Last April, we just finished a major contract for 30,000 of our core members that work across the city as doormen and building workers. I got the opportunity now to pass the baton, in a moment when the union is very strong, you know, on good, solid footing. 
So do you plan on completely stepping away or is there another role in labor organization in your future? 
Well, I'll remain as a consultant for the union for about six months, just to help in any conceivable way in this transition. But again, I've extreme confidence in the new leadership. We have brilliant, experienced, officers, who lead this union, so I'll play whatever role is deemed both necessary or appropriate to help them continue to be successful. 
Looking back, not only during your time as president, but over your past 4 decades at 32BJ, what are some of the highlights or wins you've witnessed during your time? 
Oh, wow there were so many. Well, let's start with the fight for $15. We started here in New York, and we won $15 for fast food workers through our efforts and political force. We passed worker protection for fast food workers. We've fought back against Chipotle, a company that has been abusive to its employees and uses their policies about work hours to take advantage of paying people as little as they can and have them fight with each other to earn a living. We've helped pass the Fair Workweek laws. We helped pass driver's licenses for undocumented immigrants in New York, in Boston most recently, and in D.C. We passed the HEAL Act, here in New York State, which will provide better transparency on hospital pricing and it continues our efforts to get hospital pricing under control. We've had some great political victories with elected leaders. We helped elect the mayor, we helped elect the speaker of the Council, we can go down the line with the other important allies like the governor herself, we played a very strong instrumental role in her election. 
32BJ has grown to be very influential. What was the path like to create a relationship with the politicians in power and have them listen to your demands? 
Well, I've always been engaged in and helped to lead our political work here at the union. So personally, I've built relationships that go back more than 30, 40 years and through those relationships, built the trust and the confidence to advocate for our issues. And so it's been good to have had a long relationship with our mayor, who I consider a friend. I have a long relationship with the Speaker of the Council and, not to blow my horn, but we were actually very instrumental in her ascension to the Speakership. We share certain values and I knew, because of our personal relationship, the type of individuals that we knew that we can count on to stand in defense of working people of this city. So politics plays an important role for workers and we've learned how to use it to the betterment of workers and to elect officials who feel the obligation to workers and their community and not the 1%.