Personality
Neurodiversity shouldn't be a barrier for children
In a Q&A, Beth Rosenberg, an educator and mom turned social entrepreneur who founded Teck Kids Unlimited, discusses how the nonprofit is helping children with autism and other challenges obtain new skills, develop a passion and pursue meaningful opportunities.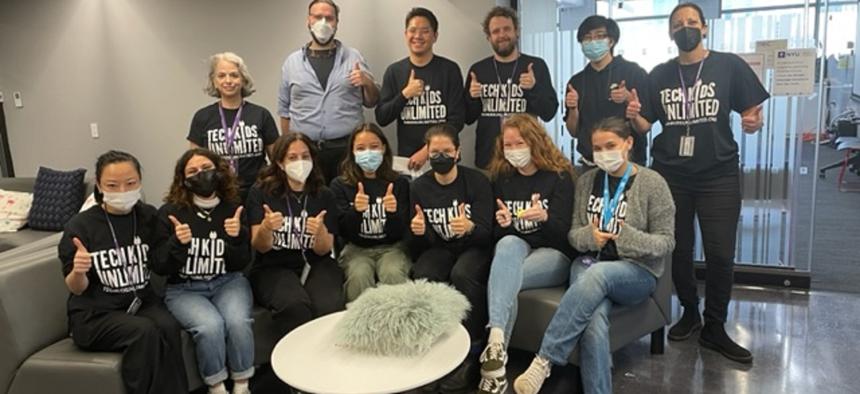 When Beth Rosenberg established Tech Kids Unlimited in 2009, it was as a mom who needed better options for her son. He and many other children with autism or learning differences loved technology, but lacked opportunities to develop digital skills. Over time, TKU has built a suite of successful tech programs and experiences for neurodiverse young people, including paid summer internships. Now that the oldest students are in their early twenties, Rosenberg and the TKU community face a new challenge: job placement. 
New York Nonprofit Media caught up with Rosenberg to discuss how TKU is making sure children with autism and other challenges are learning new skills and seizing on their best opportunities.
This interview has been edited for length and clarity.
Founding and leading Tech Kids Unlimited has been a huge part of your life. What was the moment you knew you needed to start  this organization?
Tech Kids Unlimited grew out of a need. When my own neurodiverse son was 10, he loved the iPad and wanted to create stuff – but he needed a classroom which met his needs: small, nurturing and individualized. 
Like my family, there was a broader community of neurodiverse families who also wanted their children to explore computational thinking and technology in a supportive environment. I looked all over New York City and couldn't find a program that would check all the boxes. I'm an educator by training (having worked in the education department at the Guggenheim Museum for 10 years, early in my career) so I just bit the bullet and said, "I'm going to create an animation workshop for these students." It was a hit. The parents wanted more, and so we started teaching other topics – and the rest is history!
What does "neurodiversity" mean?
Neurodiversity refers to diversity in the human brain and cognition. It's the idea that some people's brains work differently. This can manifest in the world in many ways: the way someone learns, their ability to pay attention, the way they communicate or even sensitivity to their physical environment. The term actually started being used in the 1990s as a way to get people to focus on people's differences, not their deficits. 
Who are the students TKU serves?
TKU serves students ages 7 to 22 in New York City in-person and online. The programs are for students with autism and other challenges, including ADHD, language-based learning disabilities, executive functioning and sensory processing disorders. One hundred percent of participants are neurodiverse and span all ethnicities. 
What makes TKU's mission special? 
It's important to understand the origin of the TKU student. In July 1993, Early Intervention started in New York state. Before that, students weren't getting therapeutic interventions that are available today. With these therapies, students were able to make incredible gains in brain function. Now, we have a new population – neurodiverse "middle-level" students – who 30 years ago would have likely been sent to a rehabilitation or day-treatment program. In essence, these advances have created a new class of "middle neurodiverse" or "therapized neurodiverse" kids. That's who TKU serves. These young people are now growing up. But where will they fit into society?
What are some of the successes you've had, developing programs to meet the needs of young people as they got older along with the organization?
Success can look like a student who wouldn't talk to a peer and, by the end of the workshop, that same student is contributing to a group project. It can look like a group of students who receive stipends to collaborate on a custom for-hire website project as part of our after-school TKU Digital Agency. Another great success is our summer internship program where some older students are placed and paid in sites to work on specific tech projects.
Some of the young people in your program are completing school and thinking about what's next. What kinds of careers are they interested in?
Yes, we have a cohort of young people now who want and need to join the working world. Most 23-to 24-year-old students are slowly working through post-secondary education. Slightly younger students are still in high school, because their special education plans extend through age 21. Our young people want to be sound/music producers, social media managers, video editors, UX and accessibility assistants, game designers, animators and more. 
How have you been preparing your students for entering the workforce so far? What challenges do you anticipate ahead (are you seeing?)?
A few years ago, TKU created a suite of programs called The Career Ladder. 
These programs all explore career readiness and pre-internship opportunities, emphasizing the "hidden curriculum" of work: collaboration, decision-making, self-management, career preparation and training. Students learn about different jobs through guest lecturers, virtual visits and experience "careers'' with project-based learning activities such as creating logos, websites, social media, etc. Through our Career Track Courses and Social Media Apprenticeship Program, they develop specific skills to start exploring employment in a particular aspect of the tech field. 
Because of these opportunities, our graduating students have spent years in our programs "upskilling" – but haven't yet had experiences in the work world, in part because they need specific jobs tailored to their particular skills. And so, our next challenge is to make sure that our students can meet the traditional workforce where it is and where they are.
What keeps you up at night?
I'm worried about employment opportunities for these kids because they are misunderstood and often not given a chance to do jobs they want to do. They are pigeon-holed into jobs like filing, folding shirts, sweeping floors or shelving vitamins.
For sure, some neurodiverse people have the capacity to perform well in certain employment environments with few, if any, accommodations, such as doing backend software engineering or data analyst crunching for corporations that employ individuals with autism. And there are people who are neurodiverse who have high support needs and their best-fit employment opportunities come through various agencies. 
TKU students are different – they are techies and intelligent, capable, desiring meaningful opportunities to contribute, create, collaborate with others. But for them to be successful, they require specialized training, support in finding and onboarding to jobs, and an employer that has been trained and is committed to accommodating what they need in order to be successful. 
I know you're diving into a listening tour of sorts to figure out how TKU can best support young people through this transition. What do you hope to have figured out, a year from now?
What we have found, despite all of our young people's ingenuity and our programs' successes, is that our young people need something else to get them the last mile to meaningful employment. We are actively engaging others in the youth workforce space to help brainstorm and advise us on what kinds of programs, partnerships, trainings or supports we might develop as our population enters this age and stage. I feel a real sense of urgency to move the needle. Yes, it is about my son, and it is also about his friends, all the families TKU serves and those that don't know about us yet. A large wave of these magnificent, neurodiverse students is coming our way – and we need to learn how to surf.
So, a year from today, I would love to see more resources dedicated to helping these specific neurodiverse students. And by resources, I mean time, thoughtful practices and partnership leading to genuine opportunities that help neurodiverse students reach their potential and lead lives that are satisfying and meaningful. After all, isn't that what we all want – for ourselves and our children?