How 2022 Robin Hood Hero Elsie Flores turned her life around
Elsie Flores, Lower East Side Court Advocate at Avenues for Justice, spoke to New York Nonprofit Media about the recent award and working at the organization that she credits for saving her life.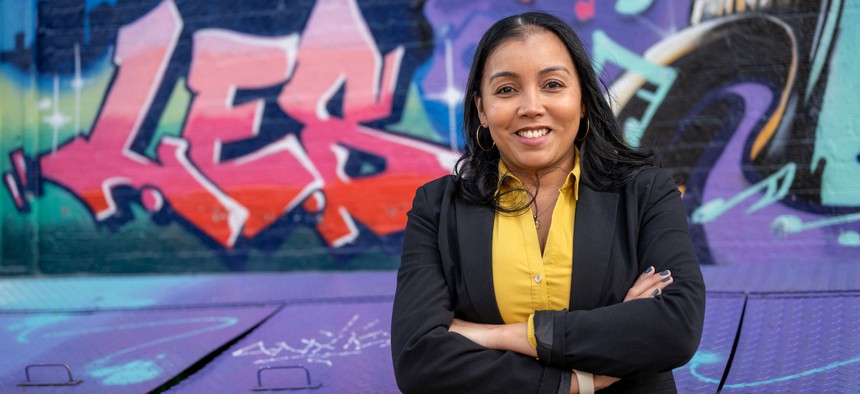 Elsie Flores faced nine years of imprisonment when she was just 16 years old. Having dropped out of school and spent several years in the streets and selling drugs, she received her third arrest and was at risk of being sent out of state – all while being pregnant. Following an encounter with a probation officer, she was brought to Avenues for Justice, an alternative to incarceration program for youth, who intervened and provided her with the resources necessary to escape her situation. She worked as an intern only to join the organization full time over a decade ago. 
Now the Lower East Side Court Advocate, she supports over 300 children every year who encounter the same struggles she once did. Last year Flores was named a 2022 Robin Hood Hero for overcoming obstacles to improve her and her family's life. Flores spoke with New York Nonprofit Media about her reaction to receiving the award, how Avenues for Justice changed her life, and what it feels like to help youth experiencing the challenges she went through. 
This interview has been edited for length and clarity. 
You were named a 2022 Robin Hood Hero for overcoming significant challenges to improve your life and the lives of those around you. How did it feel to receive recognition for your hard work, not just in your professional career but personal life as well? 
It felt amazing. I'll be honest with you, I don't do this work to be awarded. I do this from the heart, it's my passion. For it to be recognized is one of the best feelings in the world. I'm still a little shocked because from the lifestyle I came from, awarding somebody for what they do wasn't common. For somebody to say good job or you're doing well, I didn't grow up with that in my culture. To finally be recognized, it was something that brought tears to my eyes and a great feeling. Knowing where I came from, and where I'm at now — it was one of the hardest things to do and continues to be one of the hardest things to do as I try to break habits from the culture that I grew up with. Knowing that it's applying itself and everybody sees it is one of the best feelings I had in my life. 
You serve now as a senior staff member at Avenues for Justice. What does it mean to be able to support these children who are experiencing similar struggles as you did in your youth?
My boss always tells me sometimes he worries because I'm too emotionally attached, but I know how to balance it. There's no way that somebody that does not have a heart could do this job. I can't do this job with a cold heart. These kids need love as well, a different type of love, a love that when they know they are cared for. I have kids who said their mother hasn't told them "I love you" in years. 
I am proud to teach them that I'm here. I love my kids. I care for them dramatically. But you know, there is a harsh side to me. That's what you have to do. If I have to be on top of you, I could be the bad guy, because sometimes you just have to. I can't be vulnerable to these kids to a certain extent because sometimes they get close to me and they can't let go. Some of my girls are with me for six or seven years on my caseload. They let me know when they are engaged or having a baby. That is most of the best things ever. 
They keep in touch because the support never ends. After the Criminal Justice legal matter is over, they can still come to me for help if they need any type of support. Some of my girls use me as a reference. One is a mother of two already married and that makes me so happy. Hearing about their accomplishments after what they've been through getting a job, getting a diploma, applying for college — that is a moment that I live for. Because as soon as you get that phone call, you can be like, my love worked, my support worked. That's what this is all about — supporting these kids, getting them through A to Z, clearing their record so it won't affect them in the long run and they can move forward and be who they want to be and don't let nobody stop them. As easy as that might sound, it's not, it's really a process because these kids have been through so much that that word is going to take time to kick in and to believe. 
I'd love to hear what your day to day looks like at work and how your efforts are impacting and helping the children you serve. 
My day could vary, the criminal justice system and the population we work with is very complicated. It could go from getting a phone call saying "I got a job" to "I got arrested last night" to one of my girls telling me that she got beat up last night to a mother complaining because she wants a child out. Domestic violence victims always need to hear certain words. I try my best not to make them feel as bad as they feel, so that's a support system. My support comes with, let's get through this the best way we can. 
A mother who's complaining about a child — I'm going to support them. How can we fix this? Do you need therapy? It could be a fun day where kids come to the youth and we play ping pong. We have workshops where students are learning about their resumes. They're learning about how to dress, how to eat healthier. We cook together like a family. I do family meetings because sitting around the table these days is not common. Two weeks ago we made Chinese food and they loved it. It could be a day with tears. One of my kids had a bad day and needed a hug. 
On a normal day we do court cases. The outcome is that they get probation and their case dismissed and there's the work ethic for that as well. 
One of my girls lost a baby the other day. Prior to that one of my girls asked me to be in a room with her while she delivered her stillborn. These are the relationships that I built so they can trust me when they meet somebody. They don't have nobody. So my support has gone a long way and it's my pleasure giving it. 
Reading your story, it sounds like you've found some sort of stability in your life. How does it feel to have achieved that?
It feels amazing. Not worrying about cops is a key thing. You don't want nobody knocking on your door, raiding your door. Being able to go and swipe your debit card because you are able to feed your family or you're able to pay your bills. It's you doing it, nobody else, you put in the hard work to get where you are. I'm still working on acknowledging that I won this award because a lot of people say I don't give credit to myself enough. It's one of the best feelings to be able to provide for yourself and your family in a legal way.