Personality
Denise Rosario Adusei is on a mission
The new executive director of the Bronx Children's Museum in a Q&A talks about the institution's top priorities under her leadership.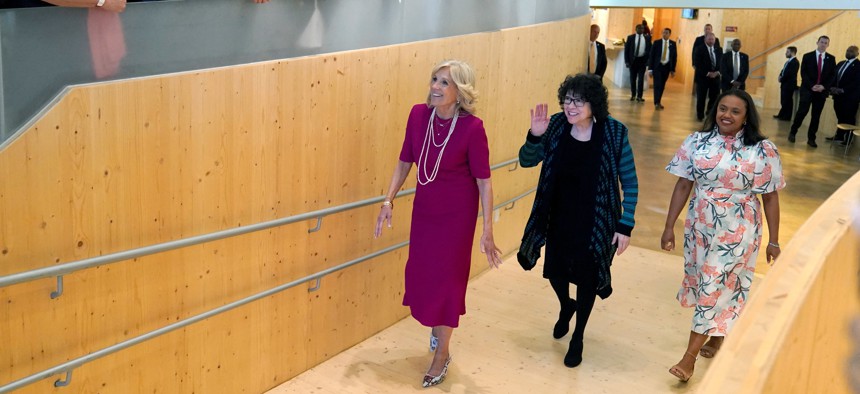 Before the Bronx Children's Museum, the borough never had an arts and cultural center focused solely on young children and their caregivers. Since programming began in 2010, the museum has engaged more than 125,000 children, allowing them to learn more about their culture through the arts. Denise Rosario Adusei, an artist and children's book author, said she believes children should see themselves in art so they can see what is possible for them in the future. As the new executive director of the Bronx Children's Museum, she told New York Nonprofit Media that her priority is to ensure that the institution becomes a "leader in art and science."
Born in Brazil and raised in Rhode Island, Rosario Adusei came straight to New York City after graduating from Brown University in 2000. She worked in nonprofit management before receiving her MBA at Columbia Business School in 2010. She then founded Peartree Preschool in Harlem, leading the school for 12 years and seeing 1,500 children graduate into New York City public schools. She also raised $8 million to help families secure tuition relief for private competitive programs. Now leading the Bronx Children's Museum since March, she's ensuring thousands of children in the borough receive quality arts and cultural enrichment. 
NYN Media spoke to Rosario Adusei about founding Peartree Preschool, being a children's book author and her vision for the Bronx Children's Museum moving forward. 
The following interview has been edited for length and clarity. 
I noticed that you have an interest and passion in bringing arts and culture to children from your days as a preschool founder. Now as the ED of the Bronx Children's Museum, was there anything in particular that sparked this passion?
I've been an artist my entire life, but it wasn't something that was an option for me. I didn't see many artists growing up. As a child of immigrant parents, we were very much encouraged to be practical, and also to be entrepreneurs in my household. But I always tried to infuse art into everything I do. So in addition tto understanding organizational development and management, I'm also a children's book writer. I have two books coming out next year. I've always tried to find a way to incorporate art into anything I do. It was always something that I wanted to pursue, but it wasn't something that was encouraged when I was a child. And so this is exactly what I want to do now – really illuminate pathways for children so that they know that this is an option. It's an option for you to grow up and run a museum. It's not something I could imagine as a child, the options for me were doctor, lawyer, or business owner. And so I achieved those goals that my parents put in front of me, but now I get to really pursue my passion, which is the arts.
I'd love to hear more about the founding of Peartree Preschool, how did it come about?
It was from a need. When I started at Columbia Business School, I was seven months pregnant. And I thought I'll just find a local program nearby and I'll drop off my daughter and then I'll be able to continue with my MBA program. I wasn't really happy with the options in Harlem. I put my daughter in a program and I wasn't really happy with the way they cared for me or the way they cared for my relationship with the school. I was a little disappointed. And so when I got upset, I built a preschool two blocks away from the program. They're no longer in business. So my goal was to really elevate early childhood education in Harlem and really give families more options. We definitely did that with Peartrees. But it was that need that I had and I felt like other parents were feeling the same way as well. And so it's just been really gratifying that I've been able to serve Harlem and families in the area for 12 years.
Being a founder is a big deal. Did you face any challenges?
I think having any organization or launching any organization in New York City or any place is pretty challenging. Finding the space and making sure that it's designed for a three-foot tall child. And seeing through the lens of a small child is always very important and something that was really important to me. It did take about a year to raise the money and also do the construction. We got through it. We've definitely had a great group of teachers. But I think the most difficult time was during COVID and making sure we stayed open the whole time, making sure that we celebrated childhood and didn't let the children really feel the difficulty that I think we as adults were experiencing. 
Please tell me more about your book. What inspired you to author children's books? Also, you're the co-founder of LatinxPitch and Black Creators HQ. Please talk about that as well.
I'm a problem solver by nature. At Peartree, I was also the book buyer, and it was getting increasingly difficult to find books that really reflected the cultures that were in my school, which was a Harlem-based program. My first solution was, "I'm just gonna write them myself." And so I learned how to write children's books. Then I also learned how difficult it was to navigate the publishing industry for people of color. I needed to bring my friends along. So I created an artist development organization called Black Creative HQ and LatinxPitch to help both marginalized communities learn how to navigate the publishing industry. So within the past two-and-a-half years, I have helped about 150 writers and illustrators sign deals and understand how to navigate writing books that children can relate to. Their books will be coming out in the next few years. But again, whenever I find a challenge, I don't want to just solve it for myself, I also want to bring along other people who have historically been excluded from the industry.
And now you're taking on the role of executive director at the Bronx Children's Museum. Please talk about your new role. 
It's the same thing. First, Children's Museum in the Bronx – I see the need. It's so important to me for kids to really see a mirror of their experience in their real life. If it's through literature or if it's through art, it's being able to see people who are in the past and who are accomplishing these goals. So for us, for example, bringing Justice Sotomayor and the first lady here, the goal was for them to see what the possibilities are for children in the Bronx: What you can be; what you can accomplish by having the justice [of the U.S. Supreme Court] here. I want  kids to understand that, "I can be a justice one day," by making art with teaching artists. I want kids to know they have so many options. There's so many pathways to success. And so for us, our job is to show that we exhibit possibilities in our arts. We celebrate the Bronx and their community and we make sure that they see themselves in what they create. So for me, that has always been a common theme in everything I do. If it's in children's literature, if it's the teachers that are in front of them now at the museum, it's going to tell you, "This is the space for you. You are the reason why we created a beautiful space. You deserve a beautiful space. You are special and we took really great care of creating an environment that's for you and all about you."
Arts and cultural programming, as you mentioned, especially in the Bronx, can tend to be pretty slim. What do you think makes the Bronx Children's Museum so successful?
When kids walk in here, seeing their face when they walk through the door, their mouths open wide. They're trying to figure out where to start. We, right now, have about 300 kids who come in on a Saturday. We're really filling the void for family and kid-friendly programming in the Bronx, which is one of the reasons why we wanted to help kick off Bronx Week. We're really excited to participate in Bronx Week. But every day is Bronx week at the Bronx Children's Museum. And I think that's what really resonates with the community. When you come in here, you see your culture celebrated, you see your music, you hear your music and the children in the neighborhood – they really do see themselves reflected in every part of the museum.
Based on the website, it's actually hard to believe that before the founding of the Bronx Children's Museum, the Bronx was basically the only borough in New York City without an educational and cultural facility geared solely towards young children and their caregivers.
I agree. And this is what for the past 12 years our motivation has been. Going into schools, we had this wonderful bus that we would bring to schools to present a traveling exhibit (we didn't have a facility yet). The organization brought the museum to school children. We're now working towards reactivating our bus so that way we can bring it to schools and invite children and especially populations and communities that have felt excluded from our institutions – to invite them to come see what the possibilities are here at the museum.
What do you envision for the Bronx Children's Museum now that you are the ED? What are you excited about in this new role?
We have a very, very simple vision. We want to be the leader in art and science education. And we want to do that through creative, hands-on exploration, engaging our artists, and really culturally responsive programming. Prior to the museum, families would have to travel outside the borough in order to have this kind of experience. We want families to be able to do that in their own backyard.