New York State
Why did Catalina Cruz sponsor Clean Slate? 'Believe it or not, it was being a survivor of a crime'
The Assembly member talked about what's still left to do now that the law is on the governor's desk.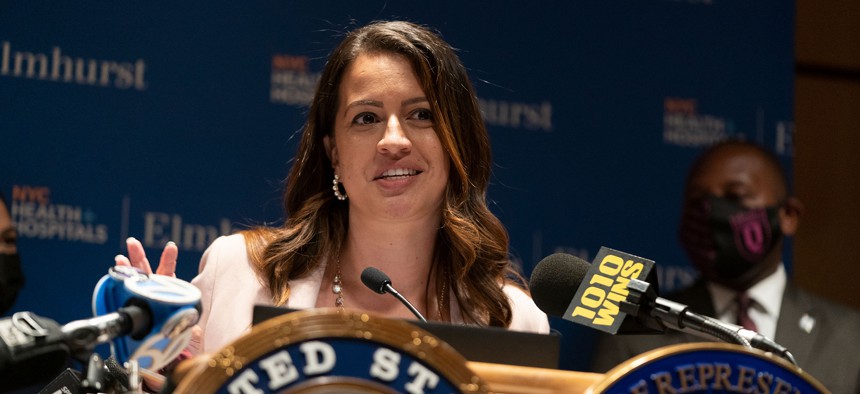 Catalina Cruz is the Assembly member for Queens' 39th district, representing Jackson Heights, Corona and Elmhurst. This session, after years of effort and multiple attempts, she was able to get the Clean Slate Act passed in the Assembly. The law will automatically seal New Yorkers' criminal records eight years after release from incarceration for a felony and three years after sentencing or release (depending whether the person was incarcerated) for a misdemeanor. People are only eligible if they have not committed any additional offenses in the intervening years – as is the case for most people convicted of a crime. Serious violent crimes like murder and rape are not eligible for record sealing. The legislation, which could impact millions of New Yorkers, now awaits the governor's signature.
"Why wouldn't we give them a second chance?" Cruz asked in an interview about her work on Clean Slate and what it was like to get it passed after three years. This interview has been edited for length and clarity.
How do you feel after passing the Clean Slate Act you've been working on for so long? 
I'm extremely happy, but our work is far from over. We still have to get the bill signed by the governor, and I am very hopeful that that step will be taken. And we then have to start a massive work educating New Yorkers about what the bill really does and doesn't do, and make sure that everybody understands and that everybody can qualify for it.
Why was this issue important enough to you to work on legislation for it? You could have chosen so many other issues to spend time on, but something inspired you to choose this.
Believe it or not, it was being a survivor of a crime. You know, one of the things that I've always struggled with was my own healing and understanding how I can help other people heal and how I can help support other people. I talked on the floor about how originally I wasn't sure that I wanted to actually take this bill on. I both talked about being a survivor of a crime and I wasn't sure that I had it in me to be able to see things from a forgiveness and in a second chance angle. I became convinced that one of the best ways that I, as a survivor, could help folks and, frankly, even help heal my own trauma, was to help folks get a second chance. Because if someone has paid the price that society tells us they should be paying for the crime they committed and then they have openly worked to make amends, why wouldn't we give them a second chance? I was raised in a Catholic family that believes in the power of redemption, that believes in the power of forgiveness. And sometimes forgiveness is more for me than it is for the person who deserves it. And sometimes, the person deserves it even if I'm not 100% comfortable with giving it to them. So, for me, taking the bill, that was a big part of the forgiveness piece.
How will this legislation impact people in your district in particular? Were there people you had in mind who were facing discrimination for being formerly incarcerated when you were working on this legislation?
I have friends, neighbors, people that I speak to on a regular basis who, just by looking at them, people wouldn't be able to tell, because of the jobs that they have now, but at some point they have a criminal record, that they made a mistake. I have other people who have come to the office who have never been able to move forward once they came out of prison, because of that record – even though they paid the price, society has not allowed them to get the kind of housing that provides dignity for their family, the kind of job that provides dignity for their family. And so when we fought for this for the last three years, my team and I constantly kept those people in mind, the people who are really going to benefit from it. 
Do you have any advice for other lawmakers trying to get difficult bills passed?
I think it's important to listen. One of the best things I've learned is the power of sitting down with someone who does not agree with you and understanding that, while I have the privilege of representing Jackson Heights that's much more seemingly progressive in their political views, not every corner of the state is like that. We shouldn't have to force them to believe what we believe. We should look for ways that ensure that the needs of all New Yorkers are met. Moving forward with a bill as if your opinion is the absolute only one that matters, it's going to make it that much more difficult to get the bill done.
What's your perspective on the people who opposed the legislation?
There's a segment of people who oppose it who, frankly, don't understand what the bill does. Everything that I have seen in opposition from some of the people on social media related to what the bill does and doesn't do is actually wrong. I've seen people put on social media that offenders on the sex registry will have their record sealed, which is absolutely incorrect. I've seen that folks who've been convicted for murder, which is an A felony, would have their record sealed, which again is absolutely incorrect. There's another segment, and I have worked in my own healing as a survivor of a crime. I can't impose what healing looks like onto other people and it's very valid that people who have been victims of crime may not want this to move forward because they may not see a jail sentence as enough of a payment to society for someone who committed a crime. I don't agree with it. I respect it and I understand it, but I'm not going to stop fighting for what I believe is right.
What else needs to be done on this issue?
I don't want to get ahead of myself. I want to make sure that we are getting the bill signed, implementing the bill and moving forward with actually carrying out what the bill is supposed to do in a way that is effective. There's a ton of other issues that other people are working on, like 13th Forward, also a (state Sen.) Zellnor Myrie bill, to end slavery that still exists within our jail system.