New York City
Antonio Reynoso wants to make Brooklyn the safest place to have a baby
The borough president focused on maternal health in his fiscal year 2023 capital budget.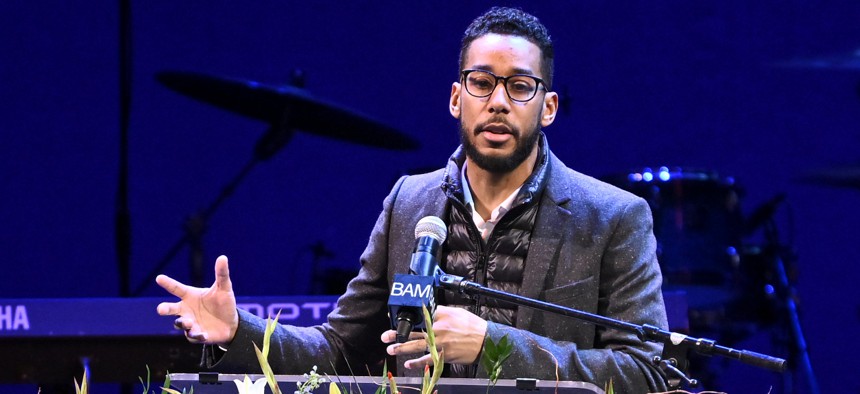 At the start of the year, Brooklyn Borough President Antonio Reynoso delivered the first State of the Borough address in a decade. There, he celebrated his first year in office – including maternal health investments – while unveiling a robust vision for the borough.
While Reynoso succeeded now-New York City Mayor Eric Adams, the borough president told City & State he is grateful for the accomplishments of his notable predecessors – but intends to carve his own path. "Brooklyn is struggling with serious mounting problems and my goal is striking the balance between celebrating this borough, all day every day, and enacting change that people can feel in their everyday lives," Reynoso said.
City & State caught up with Reynoso to discuss his vision for the borough, his political accomplishments – and his thoughts on "Barbie" vs. "Oppenheimer." This interview has been edited for length and clarity.
How would you describe your tenure as Brooklyn borough president so far? What has been your most gratifying accomplishment?
So far it's been the work we've been doing on maternal health. We know that one-third of all pregnancy-related deaths happen in Brooklyn, and Black women are 9.4 times more likely to die of pregnancy-related complications than their white counterparts. It was a promise that I made to Brooklyn that I would do everything in my power to make it the safest place in New York City to have a baby. We're on our way. We have a maternal health task force that's helping guide me; it's run by Black and brown women who are experts in their field. We spent the entirety of the fiscal year 2023 capital budget – which is $45 million – to build state-of-the-art birthing centers, NICUs and maternal care centers at the three public hospitals in Brooklyn. We did born in Brooklyn baby boxes, which were free baby supplies and postpartum resources for 500 new parents or new mothers. It just really feels like what we set out to do on the maternal health agenda we achieved and now it's about seeing what the results would be in a couple of years.
You delivered the first State of the Borough in nearly 10 years. Now that we're about halfway through the year, has your vision changed at all and how do you see things shaping out in the last few months of the year?When we came into this office, we really wanted to see what we can do differently from our predecessors. Acknowledging the work of Eric (Adams) and Marty (Markowitz and) being grateful for their work, but seeing what spin we could put on Borough Hall that would make it ours. We always talk about the fact that there was a different time before I got here. When Marty was in office, Brooklyn wasn't on the map the way it is now. He built an international brand where it doesn't matter where you go anywhere in the world, you know it's cool to wear a Brooklyn T-shirt. We're grateful to Marty for putting Brooklyn on the map, but now I have a different job. Brooklyn is struggling with serious mounting problems and my goal is striking the balance between celebrating this borough all day every day and enacting change that people can feel in their everyday lives. I want to show that this position isn't just ceremonial. We can make policy. We can alleviate some of the burdens that Brooklynites face, and we can be major players in solving some of the most complex issues. So that's the borough president that I want to be and what I hope Brooklynites are feeling.
What are your thoughts on the development of housing in Gowanus with 421-a tax benefits recently announced by the governor? Are there any other areas you're hoping to have housing built as the city continues to battle an ongoing housing crisis?
The investment and the commitment by the governor and the state is a very smart one. I'm just hoping that when we talk about housing policy in the city of New York, we talk about it more comprehensively, that it isn't just about one area or developments in one part of a borough, but that we have a citywide plan. While I'm grateful, I'm just hoping we can do a lot more. We want to make sure that we can do everything we can to solve (the housing crisis) specifically, because of the issues we're having with our shelter system and the work that we're having with asylum-seekers. If it would have been done in the past, it could have solved or helped us with that issue that we're having now.
I'm also pushing comprehensive planning, which is what I think we're really lacking in the city. Brooklyn is home to 2.7 million people and we're the largest of the five boroughs. If we were our own city, we would be the fourth-largest in the entire country, and we're only continuing to grow. So the issue is that we're not growing equitably. Rents are high, families are struggling to afford necessities and too many of our neighborhoods don't have the infrastructure – such as schools, transportation and parks – to support the people who live in them. The comprehensive plan of work that we're (doing) in this borough is really something that we should be doing citywide that I think could help address a lot of the issues. So we're hoping to solve the housing issue, not only by supporting development but also by talking about planning in a different way.
In recent weeks, you've organized forums to consider feedback on casino proposals. What was your biggest takeaway coming out of these discussions and are there any plans to get feedback from the community?
Feedback was what we were trying to get. We think that the process and the RFP set for by the state is going to allow for various small opportunities for community input because of the timeline that is built into the RFP. So we wanted to get ahead of the curve and allow for the folks in Coney Island to really have a say in what they want to see, what they want to negotiate, what the concerns are and what issues are plaguing their community that they want resolved – just to get a robust understanding of the needs and wants of Coney Island. It's the only public session related to casinos that have been put together in any (of the places) that are receiving a proposal. So the idea there is to make sure that people's voices are heard and also for the developers pushing the proposal in Coney Island to have more information about the needs of Coney Island so they're not in the dark. They can't tell us in six months that they didn't know what we wanted. Coney Island stepped up. We have over 400 individual comments on the proposal. There's value in that for Coney Island, the state and for the developers of the proposal. That was my goal and I think we've been able to accomplish that.
What are your political aspirations in the next five to 10 years?
I want to make sure that we continue to be the best borough in the city of New York. I'm going to do everything I can to make sure that that is the case. I want to do right by Brooklyn. There's a lot of work to do here. So I'm keeping my attention on getting it done and doing it the way that the people of Brooklyn deserve. I'm just laser-focused on being the best borough president I can possibly right now.
Did you watch "Barbie" or "Oppenheimer"?
I am very interested but haven't had (time) to head out to a movie theater at the moment. From what I've seen, "Barbie" seems to be winning out versus "Oppenheimer." So I'll add my value to that very important question in our lives right now, in short order, but I haven't been able to see it yet.