Interviews & Profiles
'My private life mirrors my professional life:' Union Settlement CEO on her devotion to public service
Darlene Williams sits down for a discussion with New York Nonprofit Media.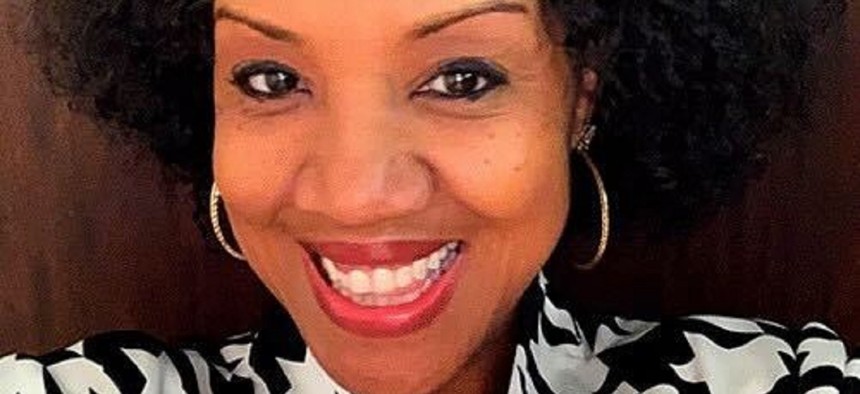 After over two decades of leadership in public service, Darlene Williams is now the CEO of Union Settlement, a nonprofit organization that offers comprehensive services to East Harlem residents. From working in New York City agencies such as the Department of Health and Mental Hygiene, Administration for Children's Services and the Department of Veterans' Services, to working under Christine Quinn at Win and Opportunities for a Better Tomorrow, Williams has been a leader for a long time and has thrived under many challenging circumstances. 
Continuing a legacy of public service, Williams has dedicated her life to service after growing up witnessing her parents serve their community. From serving their community in their professional lives, to becoming figures in their church, Williams was inspired into a life of service from a young age. 
Williams has proven her capabilities as a leader by working in public service through New York City's most challenging times, such as Superstorm Sandy and COVID-19. 
Williams sat down with New York Nonprofit Media to speak about how her parents inspired her into a life of service, her time in leadership at city agencies and nonprofits across New York City, and her vision for Union Settlement moving forward.
This interview has been edited for length and clarity.
I would love to hear more about your background and journey into public service. What made you want to have a career in public service? What about your upbringing contributed to your dedication to it?
I started in public service when I was 14, my first job was at a library. I was putting books on the shelf. And then through high school, I went to a program where you were able to go to school and work once a week, which was the co-op program. Through that program, I really started my career in public service, because I was working in an area where I was actually helping to serve individuals in a hospital setting. Ironically enough, my mother did the same thing. So it was really full circle, doing something that she did. And then when I look at all of my jobs throughout my career, they've all been in the service industry. From my early days of working in a shelter system as a director, until I came into city government. I started working at the health department as a director of a brand-new program, the Newborn Home Visiting Program, to ensure that moms in the poorest areas of New York City with the highest need had the resources and support to get their families to a healthy start, especially their infants. And then from there, I just moved up throughout city government as an assistant commissioner for the Administration for Children's Services, and then the Department of Veterans' Services, helping our veterans. And then I came back to the nonprofit world, running shelters and supportive housing and providing services to women in need, and then continued to where I am now. So I think my entire career has really all been aligned with mission-focused work. Working in areas where we're actually serving the most vulnerable population across New York City, that's something that I've always wanted to do and continue to do. My private life mirrors my professional life, because I am a reverend in my church. I serve the community that way. I'm also a member of Zeta Phi Beta sorority incorporated, and one of the principles is related to service. So public service and serving individuals has always been a passion, but I have to credit my parents. I'm the product of Reverend Robert and Betty Brown. Unfortunately, they passed away just just last year and the year prior, but growing up in that household and a Christian household, I've always watched my parents serve. So it's been instilled in me as a child.
You're the product of a family that dedicated their lives to public service, now you've dedicated your life to public service. I would love to hear more about your family's dedication to public service. 
My father grew up in a very poor family in Alabama, and then he came to New York City after graduating from high school to make a better life for his family. He was the oldest of 14. So he literally spent time in his early 20s in New York, going to different places to work and bringing money back home to his family and Alabama. My mother, she grew up on a farm, so she actually tended to the farm and took care of her brothers and sisters and the community, really serving and giving food from her farm to people in Greenville, Alabama. Both of them were public servants in a community from their childhood where they came to New York. My mother spent 35 years working in a place that grew up to be Citibank at the World Trade Center. She served that organization, as a leader, until she became the assistant vice president for 35 years. My dad, he also worked there, but then he left shortly thereafter and had a cab service. He had regular customers that were dependent on him to get them where they needed to go, and he was really dedicated to doing that. Outside of their professional careers in New York City at First Baptist Church, they served in every ministry and just serving that whole community through Bible studies, food, kinship, kitchen opportunities, providing clothing, different things that you do in a normal church environment. I watched them do that but also helped them do that. So as a young child, I also engaged in those things with them. And it really just embedded in me the mission and importance of service, which I think is what led me to not working in the for profit field, I went straight into the non-for-profit field and city government. 
You're no stranger to running large organizations and city initiatives. You were chief program officer for Win, one of the largest providers of shelter and supportive, tell me about that experience. 
That was a really great experience. First of all, working underneath Christine Quinn, former speaker of the City Council, was amazing. Just learning from her and really helping her to lead that organization, it's a special place, because not only do we provide transitional housing and supportive housing for families, the services that we provide is just unmatched because it's comprehensive services. I was able to oversee the departments that were not only responsible for ensuring that people were able to get out of shelter but to ensure that everyone has the services they need to thrive and to take care of their families, from child care to mental health services with our social workers, after-school programs, income building and workforce development programs, but also caring for the staff. I was at Win during COVID and being there during COVID and being able to implement the policies and the procedures to keep our families safe, to keep our staff safe and continue services was something I would never take back. We did things like ensuring that we develop a sick bank for our staff members at the height of COVID who needed to take time off. We ensured that our families who were in the shelter did not have to leave during the height of the lockdown by making sure that they were still able to get their medication from the drugstore, they were able to get laundry done, food delivered, all the things that seemed natural now with Instacart wasn't natural during the pandemic. So I really enjoyed being there during that time to really be innovative and figure out how we can be locked down, but still make sure our families and our children had the services they need. 
What advice do you have for other leaders who are leading in a time of crisis?
I would say we've been hearing a lot about emotional intelligence, and I don't want to minimize how important that is when we're leading individuals or leading organizations through crisis, we have to remember that our team, our staff members, the people who are supporting and serving the community, are also going through crisis themselves. So really just staying in tune with what's happening with your team, being available and being physically and mentally present, really understanding that individuals, even though they're in this field, and they're serving, and they have their own issues that are happening and just being flexible when it comes to that and setting realistic expectations. As a leader, there's a lot to be done, but we have to remember that we can't do it all ourselves. So ensuring that we have good partnerships that are aligned with our mission and our goals, I think is important. Also ensuring that your team has the right resources to be effective and to do the work that they want to do, I think those things are critical. What I would say is one of the most important things is to set the example. Be a leader that is not afraid to set the example and do those things that our team is committed to doing as well. 
Then you moved onto Opportunities for a Better Tomorrow, what have you learned about yourself as a leader in your time there? And what lessons will you apply to your time at Union Settlement?
One thing I learned about myself at OBT is the importance of ensuring balance, because OBT was my first non-24/7 job in a long time, coming from shelter and the health department and ACS, those jobs were 24/7. It taught me to make sure that I continue to have that balance in my life. It's important that we learn to rejuvenate and refuel ourselves as well so that we can be our best selves. So I learned that, and I've taken that with me to Union Settlement, which is a huge portfolio. The services we provide are just so massive and so important that I have also taken the fact that I need to make sure that I am articulating my vision, the journey and the steps across the entire organization and finding ways to make sure that everyone knows how they play an important role to the mission and everything they do matters, but also, that they know the steps of the journey.
What drew you to Union Settlement?
When I look at my career, I have touched on every aspect of social service you can think of, from shelter and all the programs that are in shelters, children's services, the health department's mental health services, Union Settlement encompasses all of that. It's almost like taking everything that I've done and bringing it to one organization and being able to make that massive impact across East Harlem in a way that brings together everything that I've learned. What's so funny about Union Settlement is when I was at the health department in 2007, I was in a building in East Harlem, now they're the Center for Health Equity, one of the programs of Union Settlement is in that building. So when I walked in that building I said "Oh my God, this is my building from the health department." When I spoke to the individuals who run that program, it's the exact department in which I was the assistant commissioner when I was at ACS, and the same people were there. So it was really kind of a defining moment, that everything that I've done in my career is coming together in this one massive role at Union Settlement. So I know my purpose is to be here and to serve this community.
What is your vision for Union Settlement moving forward? What does success look like?
This is our 128th year. 2025 means that we'll be celebrating the 130th anniversary. I set a goal and a vision statement called "Journey to 130, Rejuvenate, Revitalize and Refine." Over this next year and a half, I set some strategic pillars in place, and they came from talking to the staff and listening to or speaking to our stakeholders, our board, and it's really about making sure that Union Settlement is that strong pillar in East Harlem that it has been. I outlined five pillars to their strategic vision. One of course is fiscal health, just ensuring the fiscal sustainability and stability of the organization. Second is competitive advantage, just really making sure that we increase our visibility. Third is culture, without the culture, without the staff, without the team, nothing else matters, nothing can get done. Really enhancing our diversity, equity, inclusion, accessibility and belonging journey, enhancing our professional development, our teamwork, our morale, our pay for our staff. Fourth is capacity building, ensuring that our team has what they need to be successful, having the tools, the resources, whether that's staffing, data management, research, evaluation, all those things that we need to make informed decisions and to really serve the community well. Then my fifth pillar of the vision, of course, is board engagement and board development. They're your partners and they're an important piece of the journey, so just ensuring that we have that connection to the board in a way that'll help Union Settlement be successful and to thrive more than before.