Personality
Wayne Ho on Chinese-American Planning Council support for 2023 Somos
The organization's CEO talks about partnering with the state Assembly AAPI Task Force, community partners and others to bring an energy-charged event to the annual conference in San Juan Puerto Rico.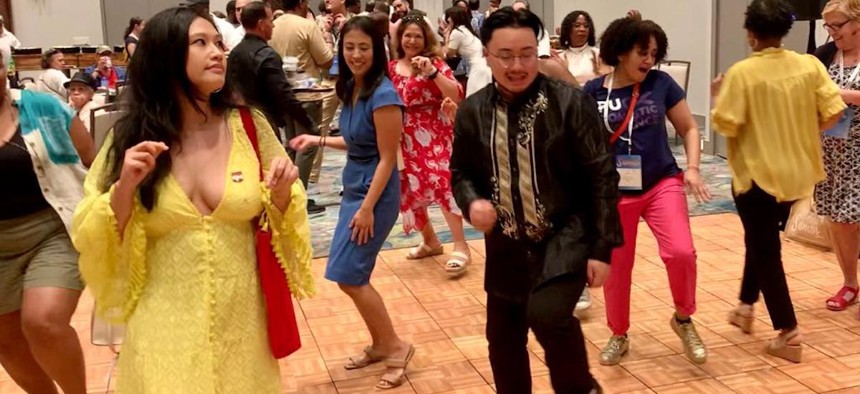 The Chinese-American Planning Council made a splash at this year's Somos conference in Puerto Rico with a reception that drew nearly 40 elected officials to the dance floor and for food that celebrated Puerto Rico's rich culture. The event on Saturday was held at the Caribe Hilton in San Juan. 
City & State's New York Nonprofit Media caught up with Wayne Ho, the organization's CEO, just as the event concluded, to learn more about how the festivities came together this year and the rise of New York City's AAPI community. 
This interview has been edited for length and clarity. 
This is the third year in a row that you've brought an event to Somos. How did you pull it off?
So this is our third year running the Asian American Pacific Islander reception. We've come to Somos for many years and we always want to show solidarity with the Latinx community while also recognizing that we all stand together unified to make sure that we're making New York City and New York state better for all communities of color and immigrant communities. We're grateful for Assembly Member Karines Reyes, as well as Assembly Member Grace Lee for supporting the event and putting us on the official schedule. We want to thank all the sponsors and community partners for making today happen. We're excited that the AAPI reception got nearly 40 elected officials of the federal, state and city level. We've built a reputation for having a fun reception at the end of Somos, where we bring together everyone.
What was attendance like? 
Nearly 600 people showed up. We built a reputation for having the best food and an open bar because we're fortunate that we have sponsors that are giving us the resources so that we can put towards the economy here and make sure people have a fun time eating and drinking.
Please talk about the impact you've seen within New York's Asian voting block.
This is a voting block that needs to be paid attention to. Asian Americans are the fastest growing racial group, not only in the city, but the state and country. And we're also a large voting block. We've seen over the last couple of elections that the priorities of the Asian American community have been affecting election decisions at the local level to larger levels. And that's why we want to make sure that we all come together. 
Where are the priorities for AAPI, from a policy perspective?
There's more attention on budget priorities and legislative priorities of the AAPI community. From a budget perspective, we want to continue making sure that there's an enhancement to the AAPI equity budget at the state level, as well as the AAPI Community Recovery Initiative at the city council. We also want to make sure that any time that laws are passed or programs are initiated, that Asian Americans and Pacific Islanders are kept top of mind by our legislators.
So the buzz at Somos was that the Chinese-American Planning Council event was one of the most attended, with plenty of food and drinks, and that the dancing was hot. What's your secret sauce?
We think that people come for the food and the fun, but they stay, and they stay throughout the entire event because they recognize the growing power and strength of the AAPI community. And they also recognize we all need to stand in solidarity.