Perfect Your virtual and hybrid event fundraising: 5 Ideas
Use these best practices to supercharge your online fundraising strategies!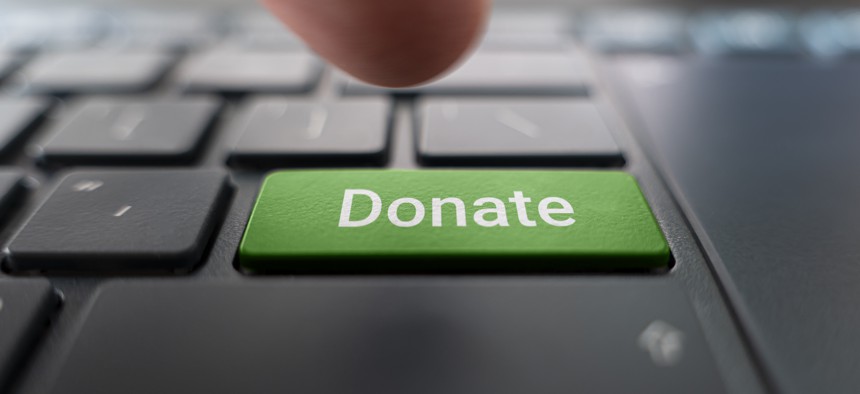 It's no secret that virtual and hybrid events are at the heart of modern fundraising. Between the rise of remote work environments and event technology, the nonprofit world is changing and it's essential that fundraising teams keep up with the times.
To reach supporters, no matter how remote, digital engagement is no longer just a nice feature to have. It's one of the most versatile tools in your fundraising arsenal, and you need to know how to use it.
In this crash course to hybrid and virtual event planning and management, we'll walk through key tips, tools, and ideas to supercharge your fundraising strategies. We'll cover:
Five hybrid and virtual fundraising tips
Five best virtual fundraising ideas
From small PTA fundraising groups to bustling nonprofit associations, all fundraising teams can leverage these virtual best practices to their advantage.
5 hybrid and virtual fundraising tips
In order to pull off a successful hybrid or virtual fundraiser, there are a variety of best practices your event planning team can put into action.
For instance, your organization can try out these tips to improve your hybrid and virtual fundraisers:
Understand your target audience: Before your fundraiser, conduct research on your target audience to discover what the most appropriate marketing platforms or event content are. It can be helpful to look at past event and donor data, like time zones, age range, and your supporters' personal and professional interests.
Set your budget and stick to it: The last thing you want to do is unnecessarily exhaust your resources. To keep your event within a reasonable budget, take a look at past event budgets. Be realistic, and carefully consider where resources will best be put to use.
Implement multichannel marketing: Marketing your event on multiple platforms (like email, social media, and direct mail) is the best way to get the word out and drive attendance. 
Offer plenty of virtual engagement: Virtual and hybrid attendee engagement is one of the biggest hurdles you'll face. To engage these supporters, live chat features and networking tools can help. 
Reach out to attendees after the event. Engagement doesn't end as the big event day wraps up. Post-event surveys, thank-yous, and merchandise opportunities are great ways to keep your attendees engaged long after they close their laptop screens. 
By planning for the unique challenges of virtual and hybrid events, such as engaging virtual attendees, you can gracefully make the jump to virtual fundraising. 
5 best virtual fundraising ideas
Virtual fundraisers come in all shapes and sizes from complex events with high budgets to out-of-the-box creative fundraising ideas. Here are a few of the top virtual fundraisers for you to consider:
1. Read-a-thon fundraisers
Chances are you've likely heard of walk-a-thons, bike-a-thons, and even dance-a-thons, but what about read-a-thons? This incredibly popular peer-to-peer campaign is taking the fundraising world by storm. It's one of the fastest-growing virtual fundraising ideas for schools and organizations with a focus on children or education.
Read-a-thons raise funds by having your supporters read as much as they can in a given time span and then using peer-to-peer tools to collect donations from sponsors in support of their progress.
That's the long and short of it. This straightforward virtual fundraiser can be surprisingly compelling and profitable, as it nurtures literacy while also giving donors a genuinely inspirational fundraising idea to rally around.
2. Educational webinars & workshops
Virtual webinars and workshops are a great way to appeal to a wide range of audiences. 
The virtual event leaves plenty of room for creativity and flexibility. While some organizers will want to host a more professional webinar on serious topics, you could just as easily organize a salsa dance workshop or an interactive multi-group art class.
Here's the basic webinar checklist for how your event will work: 
Organize the educational content for your workshop and pick a guest speaker to present the topic.
Spread the word about your event, promoting the upcoming learning opportunity on your marketing channels.
Charge attendees a small "ticket fee" in order to attend.
Kick off your webinar and engage attendees through your chosen event platform.
To maximize engagement and really get a bang for your buck, be sure to save your event's content and offer on-demand access at a price. By selling webinars in this way, you can bring in long-term revenue well beyond the initial days that the content aired. 
3. Online Charity Auctions
Online auctions are easily one of the most profitable virtual fundraising ideas – though they require a good bit of investment and planning. 
Virtual (or hybrid) auctions involve virtual attendees bidding on items, with the donated bids going to your nonprofit. 
In contrast to an in-person auction, virtual or hybrid auctions will require you to seek out event and auction software to facilitate the proceedings. However, they have the added benefit of allowing participants from anywhere to participate, massively increasing your fundraiser's reach.
Of course, the key to any successful auction is picking desirable prizes. For example, lavish vacation experiences are always highly sought-after items. If you're struggling to find high-value prizes, corporate sponsorship programs in the form of in-kind donations are a great strategy to secure items and increase the fundraiser's reach.
4. Virtual 5Ks
5Ks are a classic peer-to-peer fundraising idea that can be taken into the virtual sphere using fitness apps, distance-tracking watches, or other remote recording tools.
If you're hosting a virtual 5K, you can either distribute these items to attendees or participants can use their phones and fitness apps to track their progress. If you're going hybrid for your fundraiser, you'll also want to organize a typical 5K with a venue and volunteers on location. 
This fun, fitness-based community fundraiser also offers plenty of merchandising opportunities. You can sell items on-site for in-person attendees while providing an online shop for virtual attendees to pick up branded t-shirts, water bottles, and accessories. 
5. Remote watch parties
Virtual fundraising doesn't get much easier than this. Remote watch parties are a relatively cheap, simple fundraising idea that involves streaming content to "attendees" in return for a small fee.
This content could include movies, donated or live concerts from local artists, or whatever else your supporters might be interested in watching.
For maximum engagement, you can even offer text and video chat features for attendees to mingle, if they do choose. In fact, you can even create a digital theater by offering multiple sessions for attendees to switch between using your event platform.
The Bottom Line
As our fundraising landscape evolves and becomes more advanced with each passing year, it's important to get a start on your virtual and hybrid fundraising strategies now.
If you're ready to start revolutionizing the way you approach hybrid and virtual events, try seeking out online fundraising and event platforms to streamline the event process. With these tools and the tips and ideas we've shared, you should be on the right path to hosting more successful virtual events than ever.