Procurement progress: NYC pays out $4.2 billion
Officials announced a new initiative had begun addressing the backlog of payments owed to contractors, primarily nonprofit service providers.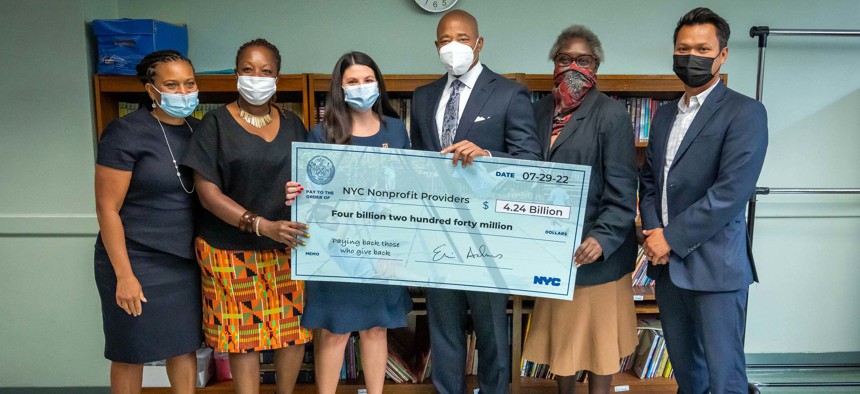 Contractors saw $4.2 billion in payments fulfilled through an initiative started under Mayor Eric Adams' administration to ensure nonprofit service providers were paid after significant delays, city officials said Friday. 
"Clear the Backlog" was recommended by a panel named the Joint Task Force to Get Nonprofits Paid on Time, according to officials. The 12-week effort, which started on May 9, followed up on 2,600 "previously unregistered, retroactive contract actions being registered or submitted for registration, helping 451 providers," officials said in a statement. 
The task force was assembled to answer calls for reforms that would improve the city's procurement process, particularly for human services providers. Key recommendations included a push to clear the backlog of unregistered, retroactive contracts, as well as "amendments to allow nonprofits who are owed considerable funds to begin invoicing as expeditiously as possible," the statement reads. 
"For too long, non-profits have been crushed by the boulder of bureaucracy and rolls of red tape, but we are clearing the backlog and finally giving non-profits the resources they're owed to continue delivering the services New Yorkers have come to rely on," said Adams at a press conference announcing the payments Friday. 
"Non-profits handle some of our city's most pressing issues, but our city's inefficiency has forced some providers to take out loans in order to pay staff and to keep the lights on," Adams added. Among those issues was the response to the COVID-19 pandemic. 
"Over the last 12 weeks, however, we've cleared the backlog and unlocked over $4.2 billion dollars for more than 460 large and small providers," the mayor said. "And we are putting new streamlined processes into place so we don't get bogged down in backlogs again – now or in the future."
Details on that process were not released. 
Among nonprofit leaders, Ron Richter, CEO of child welfare and mental health services agency JCCA, offered high praise for the effort. 
"In a time of unprecedented need among the children and families we serve, JCCA deeply appreciates the efforts of the mayor, comptroller, and the Task Force to eliminate administrative backlog and unlock vital funding to nonprofits," Richter, a member of New York Nonprofit Media's advisory board, said in the city's statement. "This initiative strengthens organizations like ours so that we can continue to provide life-saving support and stability to New York's most vulnerable young people, their caregivers, and communities."
Wayne Ho, president and CEO of the Chinese-American Planning Council, noted that the nonprofit was still owed nearly $7 million from the city "for critical services provided last fiscal year to Asian American, immigrant and low-income communities, ranging from child care and youth services to senior programs and pandemic-related services."
"Ensuring that nonprofit contracts are registered and paid on time will help provide continuous, high-quality services to underserved New Yorkers," Ho, also an NYN advisory board member, said, also in the same statement. "We look forward to continuing to work with the mayor and comptroller to deliver these vital services."
NYN contributor John MacIntosh, a partner at nonprofit funder SeaChange Capital Partners, noted that the city's PASSport Public website showed there remained more work to be done on unpaid procurement contracts. 
"While this is a great achievement, PASSport Public website shows that there are still 194 unregistered (nondiscretionary) contracts from fiscal 2021 and 2022 totaling $5.2 billion," MacIntosh told NYN Media. "I hope the city finishes the job."