Vive la résistance! The New York Women's Foundation's 30th Anniversary Breakfast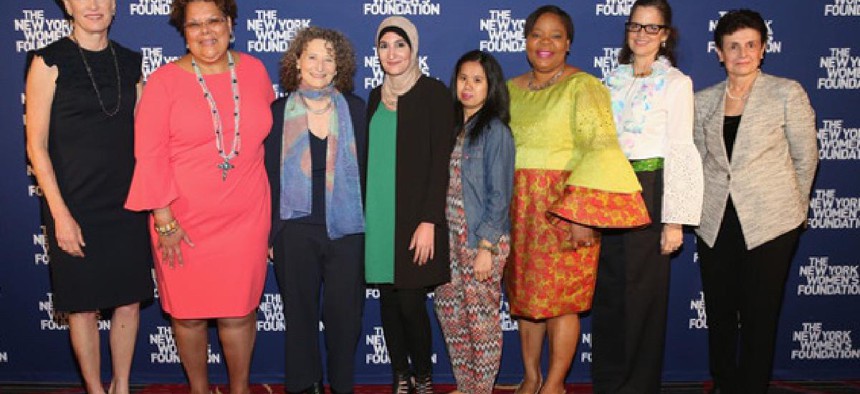 A most "racist and hateful regime" threatening a "blowback"of the achievements of the last 100 years that has created "moments of unspeakable terror" for women of color and immigrants forced to live in a "dys-Trumpian era" where democracy is under "the most serious attack in its history."
These were but a few of the words and phrases heard at the New York Women's Foundation 30th Anniversary Breakfast to describe life under the Trump presidential administration. And that was just the first few honorees.
The mood leaned toward resistance over jubilation at the annual celebration which raised about $2 million for The Foundation. And The Foundation's tagline of "radical generosity" – emblazoned on tote bags full of radical feminist literature and other swag that every attendee received – seemed an even more critical imperative.
It was a time to celebrate the organization, which has a budget of $20 million and distributed $7.6 million to programs supporting New York City's women and girls in 2016, and to honor awardees.
But it was also a time to resist.
"People of consciousness are concerned about a potential rollback, a loss of some progress that has been made in health care, in the economy for poorer communities, in inclusive government with people of color in positions of leadership and decision making, with women not being a punching bag for policies and for white males, but actually being at the center of decision-making and creating solutions, so we are very concerned with that and there is an enormous commitment to resistance." The Foundation's president Ana Oliveira said.
"And that's not something that we just want to resist to stay there. We want to advance. So we need to also seize the conversation. … Resist and advance."
Linda Sarsour, outgoing executive director of the Arab American Association of New York, co-chair of the 2017 Women's March on Washington – and one whose very presence seems to have become a litmus test for how progressive your progressivism is – was honored for her strong stance while doing controversial work. During her acceptance speech she joked that she'd been working on "creating this list of haters" for a long time and said she thinks she's finally got all the right names on her list.
"I think I'm receiving a lot of this hate because I have the audacity to be a strong powerful Muslim woman who wears hijab, who is also Palestinian-American, who is very unapologetic about who I am," Sarsour told New York Nonprofit Media. "So the opposition is going to use me as a sacrificial lamb to show how they can target and take down the opposition, and I'm just not gonna let them have it. And I'm gonna keep fighting."
The Foundation has never been one to shy away from selecting controversial honorees – other awardees this year included Cecile Richards, president of the Planned Parenthood Federation of America and Donna Lieberman, executive director of the New York Civil Liberties Union; In 2015 honorees included the founders of Black Lives Matter. Oliveira said she hoped her foundation's choices would send the following message to the philanthropic sector:
"Be bold – to not worry about telling leaders what to do, but listening to them (and) what they tell us they need from philanthropy partners."
She also responded to The Robin Hood Foundation's recent appointment of Wes Moore, an African-American male, to their top position.
"I commend Robin Hood for focusing on a more inclusive staff in leadership and continuing their journey that way. Definitely better solutions need to be created, they need to be created with people that are from the communities, are related to the communities, are trusted by communities, so that's a fantastic step," Oliveira said.
"Robin Hood has a terrific mission and it works with integrity, so we look forward for that to continue to grow."
At age 12, Marley Dias became The Foundation's youngest-ever award recipient. Dias was honored for her activism and for founding #1000BlackGirlBooks, an international initiative designed to collect and donate books written with black girls as the main character. Upon receiving the award, Dias thanked The Foundation for supporting "girls like me who often go unseen," and helping them become "the main characters" of their own lives.
New York Women's Foundation often challenges traditional funder-grantee power dynamics by operating from the belief that those closest to the problem are also closest to the solutions. Their future trajectory seems set to remain hewed to that philosophy.
"In general, philanthropy has the opportunity to put grantee partners at the center, not just on a consultative basis periodically, but on an ongoing daily basis." Oliveira told NYN Media. "Because the conditions of poverty, violence, they require an enormous amount of clarity and determination – but they also require intelligent adaptations as the universe changes."
The remaining honorees were Ana Maria Archila, co-executive director at The Center for Popular Democracy, Vivian Denise Nixon, executive director for the College and Community Fellowship, and Anne E. Delaney, philanthropist, artist and former board chair of The New York Women's Foundation.