The latest from Food Bank for New York City ... Robert Wood Johnson Foundation ... and more
Today's buzz has news from the Bottomless Closet, Food Bank for New York City and the Robert Wood Johnson Foundation.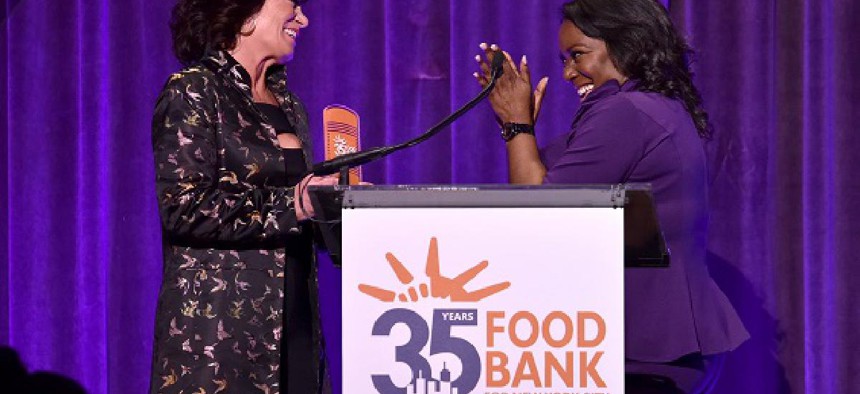 Food Bank For New York City honored Bank of America and founder of New York City Wine and Food Fest Lee Brian Schrager at its annual Can Do Awards Dinner April 17 at Cipriani Wall Street. The hunger-relief organization also celebrated its 35th anniversary at the event which featured a performance by hip-hop duo Salt-N-Pepa and, at the after party, Bronx-native Kid Capri took over the sound system. Bank of America has supported Food Bank for New York City for about a decade and made a $1 million dollar donation that night. Overall the evening raised $3 million dollars, according to a press release. For each dollar Food Bank raises, five meals are provided for residents experiencing food insecurity.
The awards dinner raised nearly 15 million meals to help support some 1.5 million New Yorkers. The evening's event chairs were Scott R. Feldman and Jodisue Rosen with Honorary Chairs Kevin Bacon and Kyra Sedgwick. Other notable attendees included: Waris Ahluwalia, Ted Allen, Kelsey Asbille, Kelly Bensimon and daughter Thadeus, David Burtka, Casey Cott, Elvis Duran, Caitlin FitzGerald, Savannah Guthrie, Kristine Froseth, David Lauren, Lauren Bush Lauren, Chris Lowell, Debi Mazar and Gabriele Corcos, Marc Murphy, Alysia Reiner, Theodora Richards, Rosanna Scotto and others. "I feel deeply that we are being honored for not just writing the check but for being involved. This is a partnership that works." said Connie Verducci, New York City Market Executive, Bank of America.
The Robert Wood Johnson Foundation has issued an RFP for its Evidence for Action: Making Health a Shared Value program. It's designed to improve the foundation's understanding of drivers and outcomes related to health, well-being, and equity - particularly with respect to disadvantaged children and families. The foundation seeks evidence on the extent to which Action Area 1 drivers –  mindsets and expectations, sense of community, and civic engagement – can be changed to result in better health, well-being and equity outcomes for individuals. RWJF will award up to $2.5 million through the program, with the majority of funding dedicated to research that is either specific to disadvantaged children and families or that will benefit these groups. Preference will be given to applicant organizations that are either institutes of higher education, public entities, or 501(c)(3) nonprofit organizations. Letters of Intent must be received no later than June 1. Further information is here.
Emerald Isle Immigration Center Inc. has been awarded $178,000 from the Department of Social Services/Human Resources Administration for the provision of information and resources to strengthen immigrant adults participation in the democratic process, according to the City Record.
Camba was awarded $235,000 for "provision for children and families in New York City homeless system," from the Department of Homeless Services, according to the City Record.
Amanda H. Nussbaum, a Partner at Proskauer Rose LLP, has joined– Bottomless Closet's board of directors, according to a press release. "We're thankful for the nonprofit law experience and perspective she brings to the table, and having a female partner from one of the City's top law firms become a part of the Bottomless Closet family is incredibly inspiring for the organization," Bottomless Closet's Executive Director Melissa Norden said. Nussbaum represents many types of investors, including tax-exempt and non-U.S. investors, and she advises nonprofit clients on matters such as applying for and maintaining exemption from federal income tax, minimizing unrelated business taxable income, structuring joint ventures and partnerships with taxable entities and using exempt and for-profit subsidiaries. Bottomless Closet helps disadvantaged New York City women enter the workforce through services and programming, including the selection of interview attire, one-to-one resume review, interview coaching and workshops.