Top foundations invest in democracy initiatives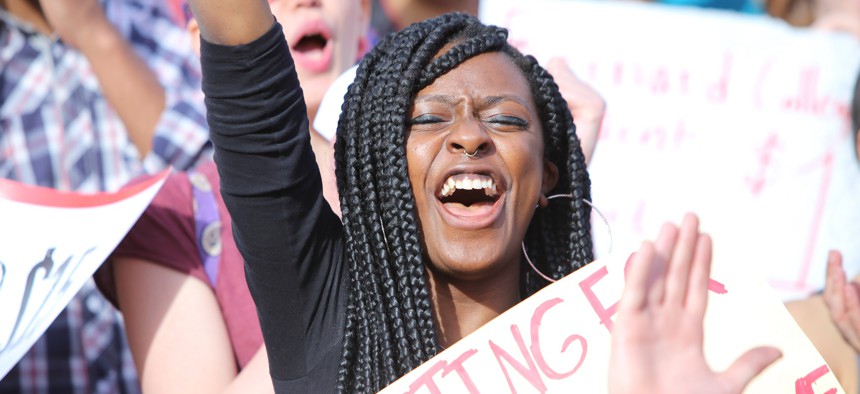 A former top employee at the New York City Housing Authority is joining the New York Civil Liberties Union as chief of staff. David Pristin most recently served as executive vice president for external affairs at the agency, and has also worked as chief of staff to NYCHA's CEO. During his time there, he led the rollout of a 10-year strategic plan and managed NYCHA's efforts to get increased funding from the state and federal government. Pristin also spent 11 years in the New York City Council, where he helped secure funding for the New York Family Unity Project. At the NYCLU, he will bolster the nonprofit's organizational effectiveness and facilitate communication between departments. 
Foundations are launching new initiatives. Borealis Philanthropy just announced its new Racial Equity in Journalism Fund, which has raised $3.6 million to date, with plans to start making grants in the first quarter of 2020. Of the $1.2 billion in grants given to journalism organizations in America between 2009 and 2015, only 6% went to serve specific racial or ethnic groups, according to an analysis by the Democracy Fund. 
The Ford Foundation has teamed up, with the Open Society, Community Change, Demos and the Center on Democracy and Organizing to launch a learning series called Realizing Democracy. The initiative kicked off yesterday with an event that included panels and art displays related to the subject. 
Many ppl believe Democracy just isn't delivering... we welcome the scrutiny on private philanthropy and democracy— Maria Torres-Springer @FordFoundation VP announcing start of #realizingdemocracy inquiry w/ @Demos_Org @OpenSociety pic.twitter.com/MOf1OL7PVA

— Alex Daniels (@AlexDanielsCOP) September 12, 2019
The New York City Department for the Aging identified five organizations to potentially receive a limited pool negotiated acquisition. All the organizations are based in Queens Council District 21 and provide senior center services. The department will possibly negotiate a contract with one of the organizations based on their successful background providing those services in Queens and familiarity with supporting a culturally diverse population. The department anticipates the initial contract will run for one and a half years for a value of $1.1 million. The organizations in consideration are:
Corona Congregational Church

Elmcor Youth and Adult Activities

Institute for the Puerto Rican Hispanic Elderly

Korean Community Services of Metropolitan New York

The Spanish Speaking Elderly Council- Raices.
The New York City Department of Social Services also awarded a $1.2 million contract to Executive Charge for transportation services for visiting psychiatric services. 
The New York State Health Foundation's Special Project Fund is accepting applications. The fund supports projects ineligible for grants through its other programs: Building Healthy Communities, Empowering Health Care Consumers, or Veterans' Health. Awards will support projects helping New Yorkers on either a local, regional or state level through "coordinated interventions" that take place over a specific period of time. Across two funding cycles, the $3 million Special Project Fund gives to five to 15 organizations annually. The 2019 recipients so far include The Public Good Projects, the Brain Injury Association of New York State and the Steven C. Rose Legacy Fund.
Rebuilding Together New York City is hosting a graduation ceremony today for public housing residents participating in its workforce training program. All the graduating students are residents of New York City Public Housing whose homes were damaged during Hurricane Sandy seven years ago. The program prepares them for union apprenticeship programs. 
Dorf & Nelson announced an addition to its nonprofit department. Adriana Kierszenbaum joined the Westchester-based law firm as general counsel for tax-exempt organizations. With more than 25 years of experience as an attorney, she advises clients on legal compliance issues related to charity and nonprofit audits.