Could the delta variant complicate the coming NYC school year?
Less than 1% of summer classrooms have been impacted by positive cases. Health experts disagree on how schools should handle quarantines.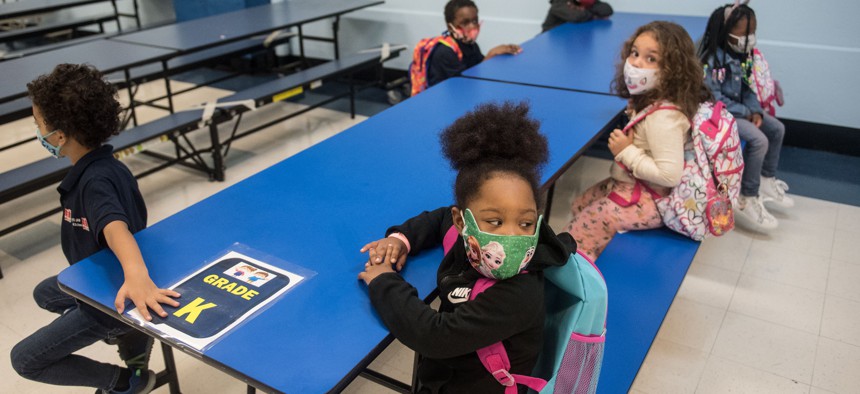 More than 200,000 students have signed up for New York City's "Summer Rising" summer school program, a record number. However, rollout of programming has been fraught with challenges and, in a signal to what might lie ahead this fall, around 95 classrooms are currently quarantining due to positive COVID-19 cases.
The program is likely to play a key role in preparing students to return full-time to the classroom following what's been a vastly challenging school year. While low transmission of COVID-19 in New York City schools has been a recurring theme throughout the pandemic, some families and educators wonder what the recent citywide uptick in cases, which have been fueled by the more aggressive delta variant, might mean for students this fall.
"I know they don't want hybrid (a mix of in-person and remote classes), but maybe they will need it based on what the delta variant is doing," said Donna Hallas, director of the Pediatric Nurse Practitioner program at NYU Rory Meyers College of Nursing. "If the numbers continue to increase, I'm sure they are going to have to make decisions based on the numbers by the end of August." 
City protocol currently requires any classroom with a positive case to suspend class and quarantine for 10 days from the last day of exposure, though this only applies to the students and staff who are unvaccinated. Children under the age of 12 are not currently eligible for any coronavirus vaccine. According to the Department of Education, there are over 12,000 classrooms participating in Summer Rising, meaning the number of classrooms quarantining due to a positive COVID case is less than 1%.
Kevin Casey, executive director of the School Administrators Association of New York State, said there are some concerns among educators that the delta variant could impact the return to classrooms this fall, but there's also a "real hope that we can be in school, in-person 100%." He said the general consensus among most educators is that remote learning is not ideal and tends to increase inequity issues, but the ultimate decisions of relaxing the thresholds for classroom closures and hybrid schooling ought to be determined by medical expertise. 
"You have to segregate the educational issues I think from the medical issues and public health issues," Casey said. "I don't think that choice can be made by educators alone."
According to public health experts, masking, following spacing guidelines in classrooms and the rollout of vaccinations for those who are eligible is going to be key to students safely returning this fall. As for the current policy of a classroom quarantining for 10 days if there is a positive case, Hallas pointed out that the delta variant is more aggressive, making masking and vaccination essential. "I think that science is going to have to really tell whether, if there's one case, where was that person, was it a child or an adult, how close were the other contacts," she said. "The best thing to do is to close that classroom if there is an indexed case." 
But Denis Nash, an epidemiologist at the CUNY Graduate School of Public Health, said he thinks the current classroom closure policy might be too aggressive.
"If everyone is masking the way they are supposed to, if spacing is happening the way it should, and if ventilation is optimized for the environment, there really shouldn't be any transmission in the school," Nash said. "Most likely a case of one individual in the classroom was probably acquired outside the school ... and so it doesn't represent what I think should be the determining factor of closing a classroom." Nash said he believes it is possible for schools to safely fully reopen this fall in places where community transmission is kept in check.
Mark Treyger, head of the New York City Council Education Committee, said this week that the Department of Education should offer a remote fall option for kids not of vaccination age and have it run by the Department of Education centrally, rather than individual schools. 
"I support five days a week in-person instruction for all, but we need to follow science and adjust accordingly while providing flexibility for families," he said on Twitter Monday. 
De Blasio addressed some of these concerns Tuesday morning, reiterating that leadership will continue to watch the data and collaborate with health experts to determine the best course of action, which is as of now, still a full return to school. The city also plans to undertake additional efforts to get eligible students vaccinated.
"We need our kids back in school so they can get healing from everything they've been through, so they can get back on track educationally," de Blasio told reporters at a press conference. "Where there are trained professionals to help them with physical health, mental health, where there are social workers, counselors, where there's food, meals for them. We need all those things." 
Nora Moran is director of policy and advocacy at United Neighborhood Houses, a group whose members are holding Summer Rising programs at 165 sites. She said the COVID-19 closures haven't impacted her partner organizations, but that staffing and accommodating an influx of students is her main focus. "We know it's happening, but we have mostly been caring the last couple of weeks about the operational issues of staffing and things like that," she said. "That's what's been front and center for us."