Nonprofits
Nonprofit human services workers may finally get a raise through the state budget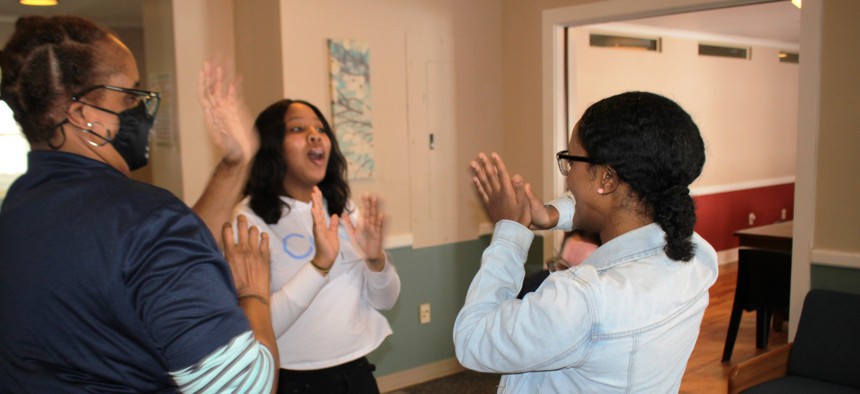 During Gov. Kathy Hochul's State of the State address at the beginning of the year, she made an announcement that the state's nonprofit human services had been looking forward to for over a decade. The governor proposed $500 million in the fiscal year 2023 budget for cost-of-living adjustments, also known as COLAs, for human services workers' salaries.
If included in the final budget agreement, the state's nonprofit human services workers would finally get a raise after then-Gov. Andrew Cuomo took out the COLAs, which had been a legislative requirement, from the budget during his tenure. These employees, who often work with homeless people, senior citizens, families and children, among others, have had their raises routinely stripped out of the state budget. Nonprofit leaders had hoped Hochul would make a change from her predecessor's austerity policy.
"Having the governor include that COLA, which is a 5.4% COLA, is huge," said Michelle Jackson, the executive director of the Human Services Council, which strongly advocated for the COLA to be part of the budget. "And the Senate and the Assembly have also included that in their one-house (budgets), so that's a very huge investment that we're excited about."
William Gettman Jr., CEO of Northern Rivers Family of Services, which provides education systems, mental health clinics and career training for 25 counties across New York state, said the announcement was good news for his 1,400-employee nonprofit.
"Our sector has been woefully underfunded in the past," he said. "The prior administration did not, in my opinion, value the not-for-profit sector despite the fact that we've stepped up to do an incredible amount of additional work on behalf of the state. The COLA is critical to keep the viability of our sector going."
Both Jackson and Gettman said hiring new employees has been difficult because of the low wages over the past 10 years. Gettman said his nonprofit has had to compete with companies like Amazon in order to attract workers, and one-quarter of his current employees have a second job, while others have three jobs. A recent study by the Center for New York City Affairs at The New School found that "roughly two-thirds of all full-time human services workers had 2019 earnings below the city's near-poverty threshold". A 2020 report from the center found that while human services grew "two-and-a-half times as fast as overall private job growth in New York City since 1990," its average yearly wage was $32,700, making it the second-lowest industry wage in the city, just ahead of restaurant workers.
Last month, the Human Services Council and Nonprofit New York teamed up to organize a #JustPay rally outside City Hall, demanding an increase in nonprofit wages, and about 1,000 supporters attended.
Although there was optimism about the $500 million COLA being included in this year's budget, there was still some hesitation about whether human services workers will get more raises in the future. "I think all of this is great," Housing Works CEO Charles King told City & State. "The real question is whether this is a one-shot and then we go back to not seeing additional increases going forward."
Chai Jindasurat, vice president of policy at Nonprofit New York, vowed this wouldn't be the end of advocating for better wages for human services employees.
"The $500 million is a great step," he said. "But it doesn't cover everyone, and there are certain nonprofit contracted workers who will not be receiving a COLA, so we're advocating that it be for everyone."
Jindasurat was referring to the many programs that have been established since the COLA statute passed in 2008 under then-Gov. Eliot Spitzer. Because no amendment to the budget allowed for these programs to be included, workers who deal with domestic violence programs, supportive housing and others have not been among the COLA recipients.
Nonprofit leaders and advocates said they wouldn't let leaders in Albany forget the financial needs of such workers, particularly as New York recovers from the COVID-19 pandemic.
"We couldn't have gotten through the crisis of the pandemic without nonprofits," Jindasurat said. "Nonprofit workers that provide essential services, they never stopped working, and they never stayed at home. I just think that there's more awareness now that the government really couldn't provide the kind of immediate response … without nonprofits."
At the same time, Jackson said the COLA statute "sunsets" this year, so there was more of a need for the nonprofit sector to ensure future COLAs. For them, it has meant more advocacy, more campaigns and taking more time to meet with elected officials in Albany.
It also has meant nonprofits coming together to form coalitions.
When asked if his coalition will endorse any candidates running for state Senate and Assembly this year, King said that candidates have already been approaching him.
Jackson said there was overwhelming support in the state Senate and Assembly because they have witnessed the work nonprofits do for their constituents. She also said the Human Services Council "plans to work collaboratively with the governor's office and state agencies to make sure the COLA is implemented appropriately and also has strong legislative champions."
She added: "Because wages have been suppressed for so long, it's going to take more than one year of COLA to fix it."
Gettman said he was proud of their advocacy and aims to be "aggressive (and) assertive" in campaigning for ongoing COLAs. His nonprofit has done social media campaigns on Twitter and on its recently launched TikTok account.
"I don't want to say we're lobbyists, we're advocates," he clarified. "We're putting a lot of pressure on the Legislature to make sure it goes through. In addition, we work with a number of associations to make sure our voice is loud."
Loud voices may be what human services workers need right now after years of low wages and high demand for human services as the state heals from COVID-19. Given the pandemic and the actions by Cuomo, leaders like Jindasurat said nonprofits cannot be overlooked any longer.
"I think the nonprofit sector has really demonstrated its power, and is becoming more and more organized," he said. "Our government officials are finally seeing that they can't take us and our sector for granted."