Housing
Immigrant households disproportionately rent-burdened: Report
Nearly 434,000 children in New York City were in households with at least one immigrant parent and experienced rent burden in 2021, according to the Citizens' Committee for Children analysis.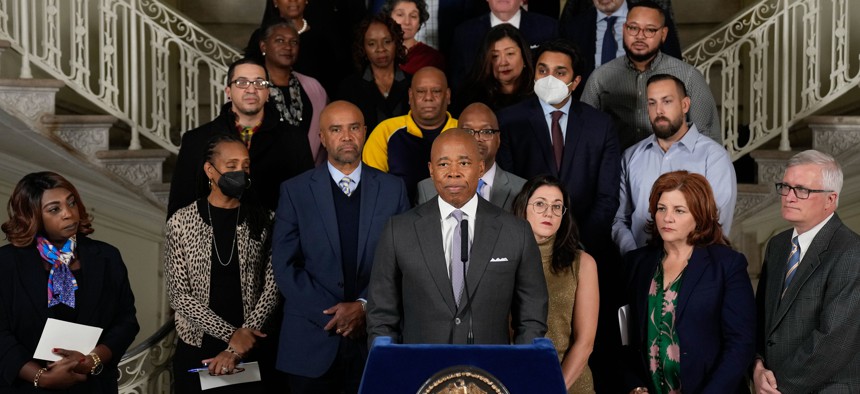 In recent months, New Yorkers have focused their attention on a surge of migrants to the city, many of them asylum-seekers from the Caribbean or South America, who have pushed an already near-capacity shelter system to its limits. But now, a major nonprofit has mined and packaged data showing that the city's pre-existing immigrant population was hard-hit by the city's housing crunch well before the current wave of newcomers.
Citizens' Committee for Children of New York, which advocates for child housing, health, education and safety, on Friday released data mined from the U.S. Census to show that twice the number of Hispanic non-citizens experienced overcrowding compared to New York City as a whole in 2021. The data also showed that:
Nearly 434,000 children in the city were in households with at least one immigrant parent and experienced rent burden in 2021 – which significantly increases the risk of homelessness and negatively impacts child and family well-being
Forty five percent of non-U.S. citizens in the city earned incomes below or near the federal poverty level, compared to 34% of native-born citizens
Fifty nine percent of non-citizen households with children in New York City experienced rent burden in 2021, compared to 52% for native-born citizen households.
"We wanted to draw attention to the fact that, while there's a lot of important and necessary focus on the migrant crisis, we can't lose sight that there are immigrant-led households of established New Yorkers in this city that already face a lot of economic and housing precarity," CCC Executive Director Jennifer March told NYN Media. "So we wanted to pull forward data to prompt a conversation about what the city and state could do to lift incomes and stabilize housing" for such families."
The immigrant households in question often had some or all members with undocumented status, and hence were only partially or not at all eligible for federal housing assistance, such as Section 8, as well as for city assistance such as FHEPS (Family Homelessness & Eviction Prevention Supplement) vouchers, according to March. Another reason for the disproportionate housing burden among such households, she said, was higher rates of living at or near the federal poverty level.
Other advocates said they found the data crunch eye-opening. 
"I think it confirms a lot of things we long suspected," said Catherine Trapani, executive director for Housing Services United, an umbrella group for New York City housing service providers, "that immigrant households are more vulnerable to housing insecurity. Even prior to the recent influx [of migrants], we've long struggled to meet the needs of this housing population, which can be hard to find longterm solutions for because they're so vulnerable to wage discrimination." 
CCC's "concretizing the scale and scope of the problem," she said, "can help us move toward solutions, which it really behooves the city to do."
March said that one point of the data was to use it to push policy change – one demand of which is not new, which is for the city to cancel its rule that individuals or households must wait 90 days in the shelter system before applying for FHEPS assistance. "The sooner you could get that application started, the shorter your shelter stay would be," she said, "which would also lead to the city being able to manage their shelter bed capacity differently."
March and Trapani said they weren't sure why the city hadn't yet canceled the 90-day rule. "I think some people continue to cling to the belief that the promise of housing assistance incentivizes people to become homeless [and hence enter the shelter system as a pathway to it]," said Trapani, adding that in her years as a service provider, she never saw such evidence - that, indeed, many people who could benefit from permanent housing don't want to enter the city shelter system for even 90 days, as a means to an end.
Moreover, she said, getting to the FHEPS application eligibility phase isn't even a guarantee of getting permanent housing. "Eighty-two percent of people who applied for family shelter were rejected the first time they applied," she said. "So if you think getting rid of the 90-day rule would open the floodgates, most people are still going to get the door slammed on them anyway."
On Nov. 14, the mayor and his chief housing officer, Jessica Katz, announced a package of about 10 reforms to PHEPS in order to, in the mayor's words, "get vouchers to more families and make them easier to use." The changes – which both March and Trapani said they support – include expanding eligibility to single adults working full-time on minimum wage even if their income was twice the federal poverty level, reducing the monthly contribution by PHEPS tenants in single-room occupancy units from 30 percent of their income to a max of $50 per month, and covering the cost of apartment application fees for residents living in the city shelters. 
At the announcement, the changes were applauded as "really a game changer" by Alida Tchichamboud, a formerly homeless New Yorker, who said that she'd often seen people not able to access PHEPS because they made merely $40 too much per week. 
However, the changes did not include getting rid of the 90-day rule. Asked about that at the announcement, Mayor Adams said that the city was still looking into the possibility, in consultation with the city's Office of Management and Budget, adding that "everything is on the table of how we can make the vouchers more user-friendly."
Another change March and others would like to see is taking immigration-status restrictions off PHEPS; currently, they say, households in which some members are undocumented – even if they are here legally, such as under asylum or temporary protectted status – receive less PHEPS assistance than those in which everyone is a citizen or permanent resident (Green Card holder, basically). 
"You should be factoring in everyone in the household" when making a PHEPS assessment, said March. A spokesperson for the mayor said such a change must happen on the state level – but according to Trapani, "the Legal Aid Society and New York Legal Assistance Group's analysis of the law is different and they do believe the City can make the change on its own."
Speaking of the state, March would also like to see pass in Albany a version of the Housing Access Voucher Program bill, sponsored by state Sen. Brian Kavanagh, free of restrictions based on immigration status. "We have to figure out how to get the governor to embrace it," she said. 
And beyond that, she said, there's more that the state could do to ease rent burden on undocumented or mixed-status immigrant households – such as extending child tax credits to familes who file under an Individual Taxpayer Identification Number (an ITIN, often used by undocumented tax filers) rather than a Social Security number, and pegging the state minimum wage to inflation (a bill for which exists, sponsored by state Sen. Jessica Ramos).
March acknowledges that many of these measures would benefit New Yorkers beyond those who are undocumented or living in mixed-status households. "But the reason we focused on such households is because, right now, there's so much attention on this influx of migrants that we should remind people that NYC's immigrant population has a very big footprint and we should be doing more to make sure that they have housing security."