Advocacy groups
Will Hochul come around on supervised injection sites?
The governor didn't talk much about addiction services in her State of the State, but advocates are pushing her to allow more facilities for medically supervised injection of illegal drugs.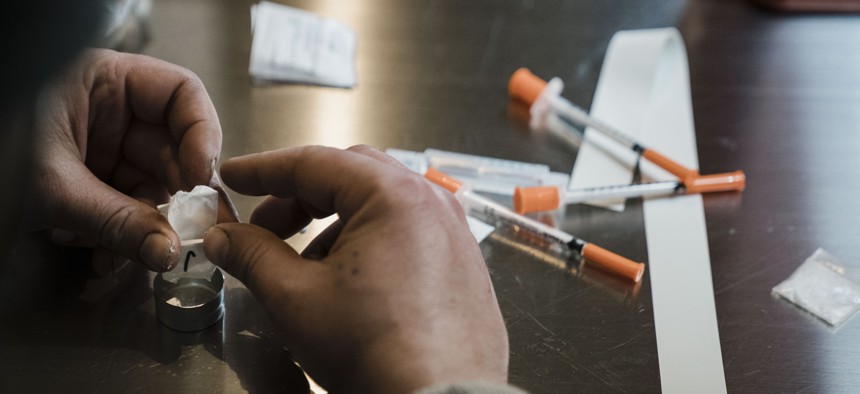 Addiction services advocates have for years been pushing for what they call "overdose prevention centers" where people can inject drugs they have already purchased under the supervision of medical professionals. And they hoped to have the governor's support after a successful pilot program in New York City, which is privately funded and operated with the consent of both the mayor and local prosecutors. But after a rejection from the administration of Gov. Kathy Hochul in December, advocates were once again left disappointed by the governor's plans to tackle the overdose crisis after her State of the State speech this week. Hochul did not mention supervised injection sites in her speech or in her accompanying plan.
For the past year, under authorization from the city, two supervised injection sites opened in New York City, the first such facilities in the country. They garnered national attention, their success or failure a roadmap for other cities and states that have considered establishing places for people to safely inject illegal drugs, such as heroin. As of November, their one-year anniversary, the centers had over 2,000 visitors, and staff there had prevented over 600 overdoses according to a report from WABC TV. Though they remain controversial, the city and advocates lauded the data as evidence of success. 
Supervised injection legislation
Right now, a bill in the Legislature would legalize supervised injection sites statewide, thus permitting funding to flow into their operation and development. But the legislation has yet to pass in either chamber, nor has the governor given any indication that she supports it. "I had high hopes for Gov. Hochul," Assembly Member Linda Rosenthal, the sponsor of the bill, told City & State. She referenced the governor's own personal experience with addiction and overdose within her family, as well as her role as the head of the Taskforce on Opioids under former Gov. Andrew Cuomo. "So I am really disappointed."
The sponsor in the upper chamber, state Sen. Gustavo Rivera, noted that New York City Mayor Eric Adams supports the centers. "So I'm just saying to the governor, 'You should do the same,'" Rivera told City & State. 
Last year, a state panel tasked with determining how to spend over $2 billion in settlement funds from drug companies that had a role in the addiction crisis recommended that some of that money should fund the supervised injection sites. But the governor's administration rejected that proposal. State Office of Addiction Services and Support Commissioner Chinazo Cunningham wrote in a letter that supervised injection "violates State and Federal Laws, rules, and/or regulations," and that the centers are operating illegally. That determination left advocates disheartened. "We all know these are illegal at the federal level – so is cannabis by the way," Jasmine Budnella, director of drug policy at VOCAL-NY, told City & State. "And so were syringe services programs when they launched in 1992 here in the state." Syringe services programs provide free, sterile syringes to drug users to combat the spread of AIDS and other blood-borne diseases. 
Budnella said she and other advocates were not only disappointed, but surprised that the governor's administration was not on board with supervised injection sites. Cunningham played a role in establishing New York City's pilot program, and Acting Health Commissioner James McDonald headed the Drug Overdose Prevention Program at the Rhode Island Department of Health, which recently invested $2 million of its own opioid settlement funds into supervised injection sites. "If COVID was not here, the overdose crisis would be the biggest public health crisis of our time," Budnella said of both the scope and urgency of the addiction epidemic. "We actually have money to spend on things that work."
"Consider all options"
The governor did address the opioid crisis in her State of the State address and book, noting that overdose deaths spiked 53% between 2018 and 2021. She committed to creating an "interagency taskforce" to "consider all options" to combat those deaths.  
In a statement to City & State, Hochul spokesperson Hazel Crampton-Hayes did not say where the governor stands on the bill to legalize overdose prevention centers, and she didn't offer specifics about how the opioid settlement funds will be used. "As someone who has personally experienced loss from an overdose, Governor Hochul is deeply committed to combating the opioid epidemic and to saving lives," Crampton-Hayes said. "Together with our Department of Health and Office of Addiction Services and Supports, we will continue to explore the legal implications of this approach and how it impacts our communities to determine how best to reduce harm and keep New Yorkers safe."
Both Rivera and Rosenthal remain hopeful that the administration's rejection of the funding as well as the absence of a mention of supervised injection sites in the State of the State don't mean that Hochul has written them off. "(The overdose crisis) is something that she cares about, so I know that to be the case," Rivera said. "And she has seemed open generally to the idea, she has never shut the door completely."