Nonprofits
Nonprofit mission: 'A furnished apartment makes someone feel human'
How a used couch and other pieces of second-hand furniture have gone a long way for a nonprofit in helping those coming directly out of the prison and the shelter systems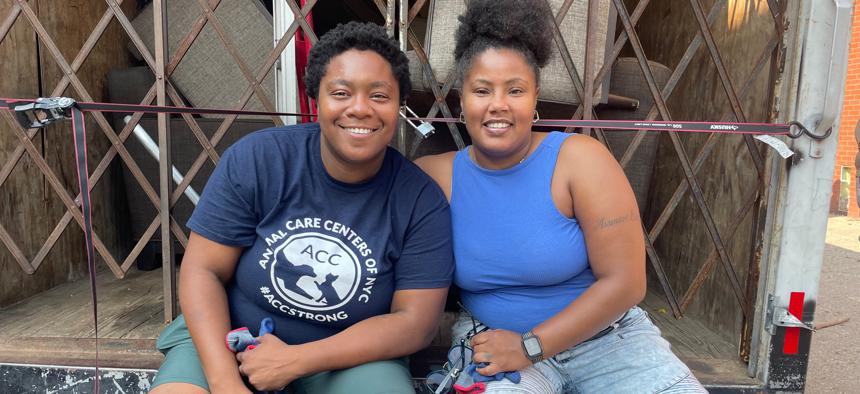 In March, Chisa Sue and her nine-year-old son finally moved into their own two-bedroom apartment in the Bronx after spending nearly a year in the city shelter system. They were elated. "It's quiet, beautiful, and we even have a balcony," said Sue, 35. The only problem was their lack of funds to furnish it. "For a month and a half, we had air mattresses from the shelter and our clothes – that's it," she told New York Nonprofit Media. 
Then, searching around online for free or cheap furniture, she stumbled on Gift It Away, a scrappy nonprofit started last year by New Yorkers Vanessa Santiago and her girlfriend, Erika "Sean" McFolling. They've collected used furniture from donors citywide and delivered it to those most in need, including those coming directly out of the prison or the shelter system, as well as  single mothers having survived domestic violence, veterans and low-income seniors. 
Sue filled out GIA's simple online application. "Three weeks later," she says, "they called and asked what I needed." Soon enough, the duo brought her a couch, bookshelves, a table for her sewing machine, chairs, and an entire bedroom set for her son – all in good condition. "It was a joy," she told NYN. "When you've been through the shelter system, you sign up for things and hope someone contacts you—but they actually got back to me, quickly. I was so grateful."
That's music to the ears of Santiago, 43, whose desire to start GIA came out of her own experience doing three bids in state prison between the ages of 14 and 40, including nearly eighteen years in Bedford Hills. "It was because of going through things," she said, recounting multiple episodes of sexual abuse as a child, including at the hands of a teacher. "I was very angry." Taking college courses both in and outside of prison, as well as therapy around her severe trust issues, "helped me learn that there was more to life than the little box I'd been living in," she said.
Her release from Bedford Hills, just when the COVID pandemic was starting in March 2020 and two days after her 40th birthday, was chaotic, leading to stints in Syracuse and Florida, a volatile relationship with a longtime husband and the challenges of parole restrictions. Finally, she ended up in a New York City domestic violence shelter run by the Urban Resource Institute People and Animals Living Safely (PALS) program, where she was allowed to have her pets with her as emotional support. After three months, she had her city rental assistance voucher and got her own place in Flushing.
But she had no furniture. She said she saved $10,000 in three months working three jobs – a night-shift office cleaner, a bilingual case assistant for seniors and an outreach worker for the advocacy group Release Aging People in Prison, which lobbies Albany to do exactly what its name says – to buy basic apartment needs. The process opened her eyes to the experience of finally having one's own apartment but nothing to fill it with – something she also saw as a senior case assistant. "One 70-year-old woman finally got an apartment, but she had no furniture." Meanwhile, she said, "people kept calling the senior center wanting to donate furniture, but no organization would accept it. I decided that if someone called again, I'd say I'd come get it myself."
Thus began GIA, which she started with McFolling, whom she'd met in Florida. They started by doing as much as they could with Santiago's 2012 Nissan Rogue, then switched to a box truck someone lent them. They registered as a nonprofit, initially scouring Facebook free-furniture pages. "But now that we've grown so much, people contact us," she said.
Their biggest obstacle to growth, she said, is having their own warehouse space, nor funding that would help them buy proper vehicle and liability insurance or to bring on people to help with deliveries, which they currently do on their own time, between jobs. (Santiago still works for RAPP and McFolling is a server in a Brooklyn hotel restaurant; together, they'll also take on odd jobs like house painting for extra cash). "We've been offered a basement space but we can't use it because stuff will get destroyed if it floods," she said. She's researched applying for different grants, but she said it's hard to find sources that fund distribution of used furniture. Meanwhile, she's set up a donation link on GIA's website but said it's brought in little.
Despite the limitations, she says, she and McFolling have thus far brought furniture to more than 300 apartments, from sources citywide as well as on Long Island and in Westchester. In the early morning hours of July 12, before they both had to be at their regular jobs, they woke up in Brownsville, where they're currently living, picked up their truck in Flushing, drove to Astoria and picked up six chairs from a previous donor, then drove to Manhattan to pick up a couch and a loveseat. Still in Manhattan, they delivered a couch and a fan to a woman with a four-month-old baby who has no air conditioning. Then they delivered to another apartment a bathroom stand, kitchen stand, bookshelf and six chairs. 
"We try to keep it to one borough at a time," said Santiago, "but we couldn't today." 
It was a sweltering day. Asked how she was, McFolling answered simply, "Sweaty."
Santiago has big plans for the nonprofit. "We want to branch out to different states and be better than Salvation Army and Goodwill," she says, adding that donations are abundant and often high-end. "We get $5,000 pieces, people asking us 24-7 if we can come pick up stuff within a day or two, which we can't always do." With the modest online donations, or if recipients tip them, they'll put the money toward gas for the truck, which she says costs up to $80 every two days.
But to Santiago, all the schlepping is worth it because it allows her to help people who were in the same position she was in. "When I was in prison," she says, "I thought, 'If I ever get a chance to come home, I'm going to find a way to serve others.' A lot of people give away food and clothes, but the hardest thing to get is furniture. When you put someone in an apartment with nothing but a toilet and an air mattress, it reminds them of being in prison. Without a real bed, your back hurts and it messes up your whole day.
"But," she continues, "a furnished apartment makes someone feel human. I have a thousand stories where people have told me how good it feels to invite someone to their home where they can eat at a table or sit on a couch. Nobody wants to invite someone to an empty space."
That was certainly the case for Sean C., 53, who in May moved into his own one-bedroom with a balcony in a brand-new affordable-housing building near Pelham Parkway in the Bronx. He'd left a hotel funded by the city shelter system where he'd shared a room with two other men.
Someone told him about GIA, so he filled out the application asking what items he was looking for. "Vanessa and Sean got back to me in a day or two," he says, adding that they were able to deliver to him, the day he moved into his new apartment, a sectional couch, desk and chair and full-size mattress with a bed frame. A month later, they brought him a TV with a stand, and a clothes chest.
To have his own furnished apartment after three years in the shelter system is "indescribable, exhilarating," he says. "I feel like a decent human being with some self-esteem and can set better goals and be more responsible with my lifestyle and how I treat others. This is my sanctuary and my serenity, and Vanessa and Sean are like angels to me."
That's exactly what Santiago, who also recently got her master's degree in legal studies and wants to get her doctorate in criminal justice, loves to hear. "It feels good to help someone else," she said. "That's why I do it, because I know how important it is to feel whole—that you're just like everybody else."