Christine Quinn on leading Win and helping New York's homeless people
The former New York City Council Speaker discusses her work at the nonprofit and answers whether she'd consider a run for public office again.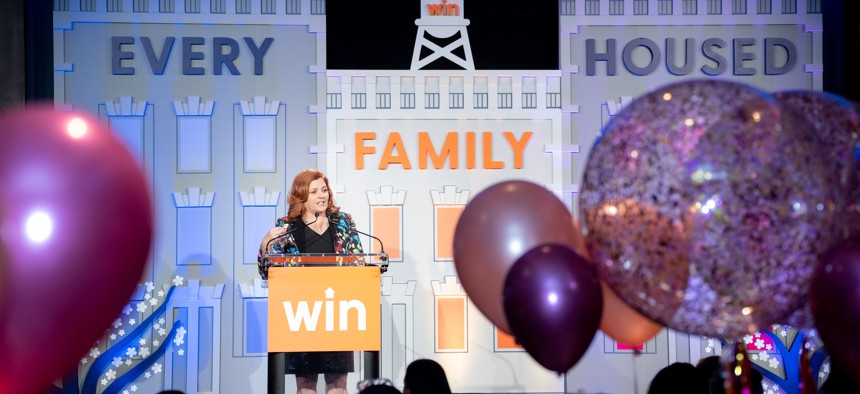 New York Nonprofit Media spoke with Christine Quinn, president and CEO of Win, which, as New York City's largest provider of shelter and supportive housing for homeless families, reports that it served nearly 8,700 people experiencing homelessness last year. Leading Win may be a quieter role for Quinn than when she was City Council speaker under Mayor Mike Bloomberg from 2006 to 2013 – the year she lost the Democratic mayoral primary to Bill de Blasio – but with the city facing an unprecedented migrant surge on top of an existing affordable housing problem, it's a busy and important one. Quinn talked about what more Adams should be doing to speed people out of city shelters, what she misses about lawmaking (everything!) and what she and her wife, attorney Kim Catullo, watch on TV when they finally hit the couch at night.
This interview has been edited for length and clarity.
What is a typical day like for you at Win?
The great thing is that there isn't a typical day. I'd get very bored if every day was the same. I get up sometime around 6 a.m. in my apartment in Chelsea with Kim (Catullo, her wife, an attorney). Recently, we had to put down Justin, our dog, which was traumatic, but when we had him, I was the morning walker and Kim was the evening walker. So after I walked Justin, Kim and I would have coffee together and discuss the quality of those particular coffee beans while watching the morning news.
Then I jump in the shower and get going. Some days I spend mostly on the phone raising money, some days I'm at shelter sites meeting with staff or taking prospective donors or board members on tour there. Some days I'm meeting city officials, City Council members and other agency folks to work on issues specific to Win or larger policy meetings. And a lot of every day is Teams and Zoom meetings with staff about various internal or external issues.
Do you work from home, the office or a mix?
A mix. Our office is right across from the Staten Island Ferry, so you literally cannot get more downtown than that.
Evenings?
Sometimes when I'm lucky I can knock off at 6 p.m. or 7 p.m. but there are times, like last night, I'll have dinner with a donor or board member or fellow advocacy or provider group people. This is a 24-hour job but it doesn't take up every hour. Still, I'm constantly checking my emails and texts to see if there's something I need to respond to immediately. I'm also a very slow reader, so things that have to be digested and edited I'll often do after hours when I have less distractions. Oh, and theoretically at night I would exercise, but that is really theoretical. We have a spinning bike in the apartment. Then the rest of the night is spent, as Kim would tell you, watching too many reruns of "Law and Order: SVU."
That's your go-to comfort TV?
Yes, which is weird because it's inherently about violence. (Laughs.) But usually good triumphs over evil. Two, on a more serious note, the show has raised the issue of sexual violence to a higher level. And three, Mariska Hargitay is cute, so that's a benefit for any TV show. It's also very, very New York. When I watched it with my late father, I liked to tell him what street they were shooting on, and whether it was the actual street they were saying it was. Also Kim and I, being total nerds, watch "Jeopardy" and compete against each other.
What about dinners?
I don't cook or know how. Kim usually cooks. She's on a kick to get us to order in less. She's a very healthy cook – sliced turkey breast and steamed broccoli or a piece of fish with escarole or broccoli rabe.
OK, so let's talk about what Win is working on most intensely right now.
Well, certainly the migrant crisis – the asylum-seekers who've been sent to New York City, which I think is up to about 90,000 by now.
That's a great place to start, and I want to start by sharing with you what I've heard from several friends who don't work in housing, which is, "The mayor couldn't have foreseen this, he's doing his best to find places for them all to sleep, and housing advocates need to let him off the hook a little in terms of adhering perfectly to the city law that says that absolutely everyone has a night-of right to shelter that meets certain codes, like everyone having their own proper bed, or how many people per site, etc." And you're definitely among housing advocates who've been critical of the mayor, so how would you reply to that?
Well, first of all, being the mayor of New York City is not a job where you get taken off the hook. People have needs, the city as an entity has needs and crises will pop up that you have no way of seeing them coming. That's how the job works and there's no reason why voters should ever let an elected official off the hook. We should drive them harder to do more, and better. Are we in a situation where the city could not have seen this coming? One hundred percent, yes. The horrible governor of Texas deciding to send poor parents and children here, for example.
But it's been almost a year now and we are New York and we have to rise to the occasion. That's what we do and who we are.
So what is the mayor not doing that he should, or vice versa?
One is that we don't have enough shelter beds for the asylum-seekers. You have to build more, but that takes time. But you also should move people out of the shelter system more quickly. There are specific things the city could do to make its processing of housing vouchers not so laborious. Landlords have been begging the city to make the FHEPS rental checks electronic as opposed to landlords having to go pick them up. Or, if you had one worker dealing with vouchers to make sure all the paperwork is in one place versus handing it off a million times – that would speed things along too. Also, the mayor could take back the 2.5% budget cut he put in place at Department of Homeless Services so we could fully staff up the voucher unit, which would make things move more quickly.
Recently, the mayor issued an executive order eliminating the longtime rule that said people had to live in the shelter system for 90 days before they were eligible for permanent housing. This had been something advocates had been calling for for a long time, to speed people out of shelter. What's your take?
I applaud wholeheartedly that the 90-day rule is no longer in effect, although I wish he'd done it sooner. 
More broadly on shelter and housing policy, the City Council recently overrode the mayor's veto of legislation that would've removed other barriers on CityFHEPS vouchers, such as extending vouchers to people who were facing eviction but not yet in shelter.
If that were put in place, it would also keep the number of people in shelter down. We recently heard that the City Council and the mayor are in peace talks.
On another point, FHEPS vouchers are available only for citizens and people who are documented. If you made them available to undocumented people, including the current surge of migrant newcomers, it would get them off the street and into real housing, which ultimately would cost less than keeping them in the shelter system. Typically, undocumented people are the longest stayers in shelter. The city will say they don't have the money to extend FHEPS to them, but we're going to pay either way, so …
But is there actually enough deeply affordable housing out there to get everyone in shelter into a real unit?
Look, finding an apartment in New York City is a real challenge regardless of how much money you have. But based on studies we've done, I believe people will be able to find housing with the current amount of a FHEPS voucher.
OK, so what else is Win working on?
We're finishing a shelter that will open on Staten Island, the Audre Lorde Family Residence. All the Win shelters are named for women of color. And we are building two buildings in the Bronx – one will be a shelter and the other will be the city's largest supportive housing for homeless families with children, with about 200 units.
How do big projects like that come to life with financing, logistics, etc.?
After Hurricane Sandy, before I was at Win, the agency was asked to open an emergency shelter on city-owned property in a Bronx building for families who were displaced by the storm. After people were moved out of it, the city let Win keep the building. One of the first things I did when I got to Win was advocate that the building be converted to some type of permanent housing. The best use of city-owned property is not shelters – it should be permanent housing. So we cut a deal with the city and now that current building is coming down and there will be two new ones right next to each other, one shelter and one permanent. The reason the financing worked is because the property is city-owned and we'll have a 99-year lease for $1.
What about the Staten Island site?
For shelters, what happens is that a developer will develop a building, then the city will negotiate with them to pay rent to that developer, which is obscene if you think about it, because the developer will make all of their money back and more. So Win has nothing to do with that building's financing, but we'll be operating it.
What are some of the things that go into operating a shelter or a residence on a daily basis?
There are a few levels. One is security and maintenance. People cannot heal and work through their trauma if they don't feel safe, which includes the site being clean. Two, we need to deliver social services to people in the right way based on where they and their children are at. Simultaneously, we need to be working with folks to get them out of shelter as quickly as possible, which also involves working with them to process trauma. Every staffer at Win, from the case managers and social workers right down to the security guards, is trained in trauma-informed care.
That's a term we hear a lot these days, but what does it really look like?
I'll give you an example. We had a situation where a leak in one unit was leaking right down to the unit below. The resident of the unit with the leak was at work, but her daughter, who was 18 or 19 and a survivor of sexual violence, was home. So we made sure maintenance knew things had to be handled differently. They got the case manager, who called the mom, who called the daughter, and as the workers fixed the leak, the case manager sat with the daughter and showed her pictures of her new granddaughter. So everything was focused on the daughter's needs in a way that kept her calm.
As opposed to the two male workers just barging in?
Right, so this became an experience where the daughter got to see that she was taken care of, and where men did something positive.
What does trauma-informed therapy mean in terms of handling disputes between residents, or between residents and staff?
It means recognizing that the people you're dealing with have experienced significant trauma and putting that at the forefront. It puts the responsibility on you to deescalate the situation and to recognize that the disruptive behavior is not necessarily who that person is – it's what their trauma creates.
So to go into the past a bit, you were on the City Council from 1999 through 2013, and speaker from 2006 through 2013. What were those years like?
I loved it. People who work in government are incredibly special. I loved what we accomplished – it was significant, it made a difference and the work was fun. Even the cruddy stuff, being up until 3 or 4 in the morning working on the budget because you were part of a whole team.
What are you most proud of?
That the budget we passed after the economic collapse prevented the layoff of thousands of NYC schoolteachers. I don't know what would have happened to New York City's public schools otherwise.
What don't you miss at all?
I loved all of it.
Really? Even fundraising for your own campaigns?
I don't mind fundraising. It's easier now when I'm not fundraising for myself. Maybe I'm looking back on it with rose-colored glasses, but even the challenging things served a purpose for me.
What did you learn about yourself?
That I was more resilient than I thought I was, smarter than I thought I was, and that I had more people who loved and supported me than I knew.
And then of course you ran for mayor against Bill de Blasio and lost. And my thumbnail version of what happened would be that you were seen, as speaker, as too much tied to the corporate Mayor Mike Bloomberg, too much having cut a kind of deal with him where you would support his unusual push for a third term, which he got, and then he would support your own mayoral run. And once you ran, income inequality was the big issue on the table in the city and you were seen as too tied to Bloomberg and Wall Street and real estate interests, and hence de Blasio, who played up the whole "Tale of Two Cities" theme, won. Would you push back on that version?
There's truth to that. That was a big part of the narrative that was believed to be true when I ran even if it's not necessarily the facts. I gave Mayor Bloomberg a lot more grief than most people gave me credit for. The City Council under me overrode his veto (on NYPD oversight and ending the use of stop and frisk). Corey Johnson and Melissa Mark-Viverito, when they were speakers, never overrode a de Blasio veto. So this belief that Bloomberg got everything he wanted from me was not true. We also took him to court on homelessness and won.
What would you say to people who say you shouldn't have supported his bid for a third term?
That we disagree. It was a terrible time. The economy had collapsed in ways we never could have anticipated, with local and national ramifications. I thought it was right to give the City Council the opportunity to decide whether to give voters the choice of who they wanted to lead us through that crisis. I'd never been a proponent of term limits. We already have them – they're called elections.
What aspects of your job today are and aren't like your speaker job?
I like to think that I was an advocate when I was speaker, as I am now. I loved working with staff, teaching them things I know and managing them, and that continues now. Then I had a staff of about 377 and now I have a staff of about 900. What's different is that, when speaker, I was always concerned that different council members were getting legislative or policy changes done. Now I don't have to worry about whether so-and-so got a bill passed.
So you just turned 57. How do you want to spend the rest of your working life? At Win?
I want to continue serving the people of New York City, which might be as an advocate, an elected official or a nonprofit leader.
You might run for office again?
I'm not waking up basing my daily schedule on that, but if the right position opened up at the right time, I'd consider it.
Any good managerial tips?
Keep lists! If you keep a list, you can conquer the world, and if you don't, you're going to be shit out of luck. Also, at the end of a meeting, I say, "Let's wrap up. Mary, can you write down all the action items and circulate them?" If I try to take my own notes during the meeting, I'm sunk.
And finally, how are you feeling about the future of the city? I have to admit that between the homelessness and mental illness crisis and the ever-widening income inequality and gentrification making it harder and harder for nonrich people to live here, I'm feeling pretty bleak.
It's easy to understand why people have moments of despair about the city. When I used to walk the dog and see rats all over Ninth Avenue, I'd be like, "Ugh, fuhgeddaboudit." But then I have moments like when a client in one of our shelters went around to the other residents and collected all the clothes and things they didn't need and left that box in the lobby for the new refugee clients. When a homeless mother can recognize that someone else is in worse shape than her and create abundance, it reminds you what is truly great and unique about New York, and the other things slip away.