Education
Commentary: This month, it's dollars and dreams for young New Yorkers
Almost 145,000 children were signed up for New York City Scholarship accounts via NYC Kids RISE Save for College Program.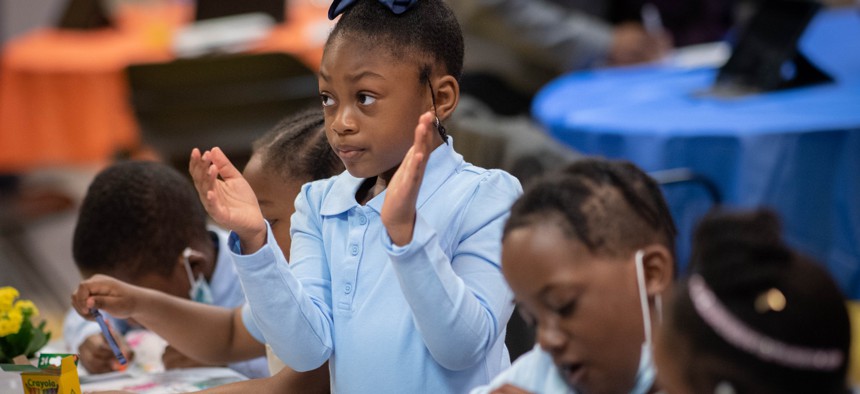 On any given day, the five of us are leading very different lives. While one of us is visiting a small business, another is meeting with public safety advocates, and another is hunkered down in a district office, figuring out how to handle constituent issues about everything from housing to trash pickup. 
But if we're being honest, we all have the same favorite constituent activity: visiting schools. 
There's just nothing that beats the infectious energy of the classroom as children soak up knowledge, socialize with their peers, and interact with our city's skilled educators. And every time, it's a reminder that while we collectively represent the city's 9 million New Yorkers spanning the whole of our city's diversity, we have a common priority: setting our children on the path to achieving their dreams. 
From both what we hear from our constituents every day and our own personal experiences, we know that it takes both high expectations and real resources to make this happen. We need to convey to children: believe in yourself, and know that your community believes in you. And we can prove it. 
The proof is visible all over the city this month: as more than 70,000 kindergartners receive their NYC Scholarship Account. The accounts, via the NYC Kids RISE Save for College Program, are funded with an initial $100 allocation for every single kindergartner in a district or charter school, anywhere in New York City, in partnership with the NYC Department of Education and the NYC Mayor's Office of Equity. 
This nearly doubles the total number of families participating in the college scholarship and savings program across New York City, to a total of approximately 145,000. Since the launch of the Save for College Program in 2017, over $18.5 million has been collectively allocated to the NYC Scholarship Accounts of participating students. 
And if that sounds worth celebrating, it is! Elementary schools across the five boroughs have been hosting events, workshops, and other activities for newly enrolled families as part of NYC Scholarship Month, encouraging them to activate and view their child's new NYC Scholarship Accounts. From the South Bronx to the South Shore and in every other city community, there have been in-person workshops and one-to-one outreach, and decorating and showcasing their school's Money Tree Poster in order to show how the balance in participating students' NYC Scholarship Accounts grows over time. 
This really matters: research suggests that children with a college savings account of just $1 to $500 are three times more likely to go to college, and more than four times more likely to graduate. It's simple: if children and their families know that college is possible, that there are people and resources in their corner, they will ride that wave of support and take the action that reflects the belief they will succeed. 
It's critical for our city's families–so many of whom are still grappling with the economic fallout wreaked by COVID-19– to know that their fellow New Yorkers have their back. That's what the Save for College Program was created to do: provide a universal, community-driven wealth-building platform. It allows partners from government to philanthropy to local businesses to contribute so that every public schooler eventually graduates high school with a financial asset for college and career training and increased expectations of success, regardless of their income or immigration status. By combining seed scholarships, family savings, community investments, and funding streams from every level, the Save for College Program can build significant assets for public school students and communities. 
So if you have a kindergartner, now is your time to activate your child's NYC Scholarship Account at nyckidsrise.org/activate. (And if you have a first grader who got an account last year, make sure you've activated, too!) You'll receive an additional $25 in the account for taking this first of three foundational steps, and have opportunities to receive more funds over time. If you need help, reach out to your school's Parent Coordinator or attend an upcoming virtual workshop at nyckidsrise.org/events. 
At the end of the day, dollars in the bank matter. But we can't forget the intangible value 70,000 young New Yorkers are receiving with these accounts. It's the trust and confidence from all corners of the city–from our offices, to City Hall, to local businesses, to the halls of funders like the Gray Foundation–that we believe in them, and are here to help them engineer the future of their dreams.