Opinion
Make more access and opportunity for disabled workers a year-round priority
It begins with removing barriers that have kept many from gainful employment.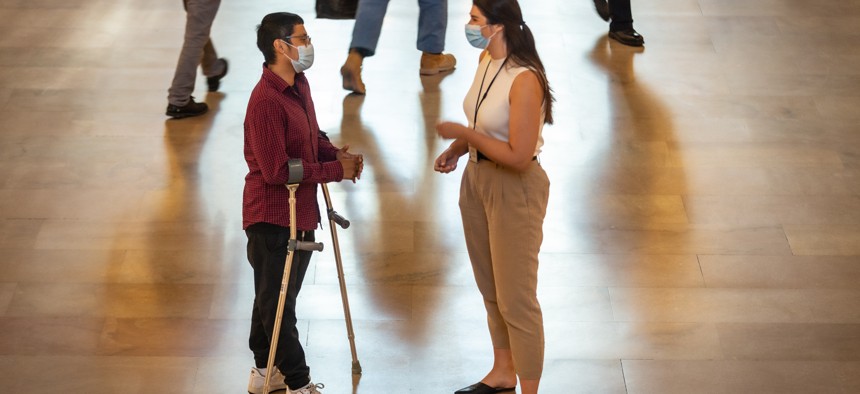 October is National Disability Employment Awareness Month, which aims to promote a simple message to employers: hire more people with disabilities.
Many New York employers are doing just that, reaping the myriad benefits of adding dedicated and conscientious workers to their teams.
Yet we have an opportunity to do much more to accelerate the number of disabled New Yorkers developing meaningful careers. But it will require added political will and proactive government support to truly dismantle systemic barriers and overcome persistent biases that limit opportunities for too many people with disabilities.
This is not a niche issue. Approximately one in five adult New Yorkers – more than 3 million individuals – report having a disability. And every one of us is but one errant step, car accident or diagnosis away from joining those ranks as either a temporary or lifetime member.
With the tight labor market persisting and jobs across many sectors continuing to go unfilled, it's time to prioritize policies that benefit New York's economy by creating opportunities for more disabled workers.
It starts with more aggressive action on something that many people take for granted: finding an easy and affordable way to commute to work. For many with disabilities, the subway, as well as some of the city's bus routes, present a daunting challenge.
At the recent inaugural Disability Justice Roundtable hosted by New York City Comptroller Brad Lander, disability advocates shared frustrations with express bus times and route reductions. We're encouraged by Lander's leadership in addressing accessibility concerns in New York City and his vow that "As the city's chief accountability officer, our office must actively advocate for the disabled community and hold City agencies accountable where they fall short." 
While many buses are accessible, the subway system, designed decades ago with little consideration of riders with disabilities, remains notoriously inaccessible.
Upgrading the system will take decades and cost billions. The New York Times recently reported that only 27% of the system's 472 stations are considered accessible under the Americans with Disabilities Act, meaning they can accommodate riders with a range of disabilities and can be navigated without stairs.
The Metropolitan Transit Authority vowed last year to add elevators and ramps to 95% of stations by 2055. Confidence in hitting that extremely long timeline is already waning; the latest capital plan that sets construction priorities through next year called for making only 67 more stations ADA accessible. 
To date, work is complete at only three stations with 19 more estimated to finish over the next three years, and no timeline for the 45 other stations on the punch list. With the MTA recently reporting it is fully funded for the first time in recent memory, it's time to exert more pressure to expedite these upgrades.
There are also less visible – but no less daunting – barriers to employment for those with disabilities. U.S. Department of Labor reviews indicate that employers, irrespective of gender, race, ethnicity, or age, are less inclined to hire disabled individuals, resulting in lower incomes, reduced working hours and diminished wealth accumulation compared to their non-disabled counterparts.
Not surprisingly, most people with disabilities cite employers' biases and misconceptions about disabled people's ability to work as the primary obstacle to finding and retaining a good job.
The result: the employment rate for people with disabilities has consistently remained around 30% compared to 75% for the general population.
Clearly, there is much work to do toward educating employers and changing mindsets. Yet one promising path toward dispelling some of these stereotypes exists through internship programs that show real promise by allowing employers and their staffs to work directly with people with disabilities. In fact, a recent study from the Center for an Urban Future found that after completing an internship, disabled applicants were six times more likely to get jobs.
Government can lead the way. The New York Community Trust recently provided funding to AHRC New York City to expand a 16-week internship program that has delivered impressive results at five city agencies. More than 40% of interns in the program moved into competitive employment, many staying within city government. The new funding will support development of at least four more internship sites, as well as finding ways to integrate more disabled employees into state government.
This program can serve as a model for any employer and particularly valuable for those organizations who previously have not made a concerted effort to hire those with disabilities. Experience demonstrates that after a few initial hires – through internship programs or part-time or full-time employment –  employers see the clear benefits of diversifying their teams to include people of all abilities.
No doubt, National Disability Employment Month offers the opportunity to shine a light on these issues. Yet city and state leaders need to prioritize improving access and opportunities for the disabled year-round.
Everyone deserves the chance to build a meaningful career and experience the satisfaction of a job well done. When that happens, all of us win.