Nonprofits
New York Landmarks Conservancy on half a century of preservation advocacy
Conservancy President Peg Breen speaks on the nonprofit's 50th anniversary and its most recent efforts on the Penn Station Redevelopment plan.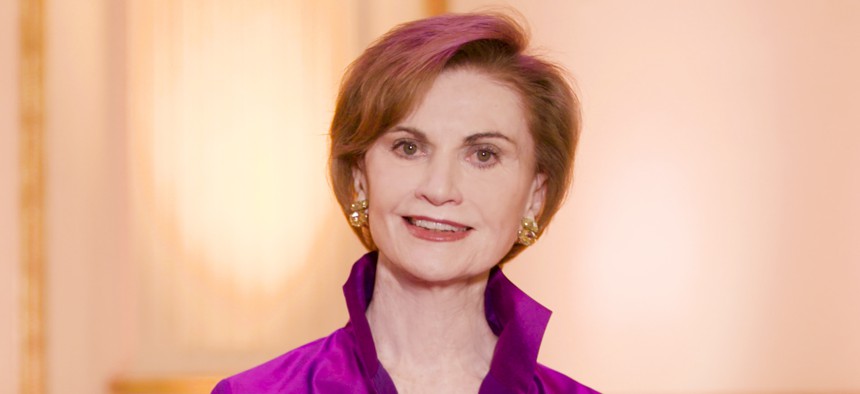 The New York Landmarks Conservancy this year is celebrating its 50th anniversary of preserving New York City's historic buildings. To commemorate this milestone, the nonprofit this month began its "50 at 50" online photography exhibition, featuring 50 buildings throughout the city that show a range of the organization's restoration projects. From the former U.S. custom house in Bowling Green, to the Alice Austin house on Staten Island, to the Weeksville Heritage Center in Brooklyn – the exhibition showcases a cross-section of the buildings restored by the Conservancy along with the stories they hold. 
New York Nonprofit Media spoke to Conservancy President Peg Breen who reflected on the organization's work over half a century as well as its advocacy protecting the city's distinct landscape near the Penn Station Redevelopment. 
This interview has been edited for length and clarity.
As you reflect on your work with the Conservancy, are there any significant preservation projects that you'd like to highlight from the nonprofit's 50 year history? 
After 9/11 we were very involved in all the efforts at Ground Zero. We were a consulting party and helped identify original pieces of Ground Zero that remained. One of which is the "Survivors' Staircase," which was in the north east corner of Ground Zero where hundreds of people saved their lives running down the stairs that day. We firmly wound up moving the stairs into what is now the 9/11 Museum where they're featured along with stories of people who saved their lives. Beyond Ground Zero, the MTA was planning to take down an entire block of Broadway for the new Fulton Transit Center. We convinced them to save a building on John Street which was an early skyscraper with an incredible early use of terracotta. We got elected support and the MTA agreed to save the building and restore it. Now it's connected to the transit center. It's a beautiful building and the juxtaposition shows a great example of how New York continues to grow. So what we did after 9/11 was very emotional and very significant.
How do landmark conservation efforts help revitalize struggling communities? 
We do this because of the people involved. We're helping people stay in homes. We're helping religious institutions of all types maintain their buildings that not only serve their congregations but many social service programs and food pantries that help a larger community. We're doing it because the city has the greatest collection of architecture of any city in the country. The greatest diversity. And it's the layers of history that gives New York its richness. All these older buildings can continue to be repurposed. Preservation provides several 1,000 local jobs, with landmarks and historic buildings usually spending over half-a-billion dollars a year maintaining them. There's an incredible advantage to our daily quality of living as well as to our economy to preserve these buildings.
Regarding the advocacy work done by the conservancy, namely the redevelopment around Penn Station. How should policymakers act in response to the proposed development plan?
I think they should act as they're acting now. Virtually every elected official who has any connection to that area, has asked the governor to stop the current plan, reconsider it and come up with a real plan that's transit oriented. What we oppose is a redevelopment scheme that has almost nothing to do with Penn Station itself. And the idea of coming into Midtown Manhattan overruling local zoning laws and threatening eminent domain on six blocks of midtown is outrageous and totally unnecessary. The giant commercial towers that were proposed had little to do with Penn Station and would have provided very little money for any improvements. So it was a real estate scheme that really benefited the developer, but not the public. A growing number of elections have now called this plan dead and asked the governor to come up with a new one. We have opposed it from the beginning and we put in an amicus brief to support a lawsuit against this as well. There's a growing chorus of people demanding change and so far the governor has not responded to any of the criticism. It's falling apart. The developer who was going to build the towers announced recently that he has no intention of building anything given the current climate. So it was a bad idea that had little to do with improving Penn Station and now I think more and more people are aware of that and are demanding a change. 
Would you mind elaborating on the details of the amicus brief regarding the Penn Station redevelopment lawsuit? 
In order to threaten eminent domain, which allows the state to take private property the state had to declare the area "blighted." The governor has said some very derogatory things about the area around Penn Station. There are, by the state's own survey, at least a dozen buildings there that are eligible. There's a beautiful church by unnoted architects, homes, apartments and a lot of local businesses. Some of it may not be gorgeous, but it's a lively area full of quirky diversity that makes New York interesting, as well as some very important buildings. The main point of our amicus brief was disproving their argument that it's blighted. We called it a blatant overreach and we cited all the examples of terrific architecture that focused on scrapping that argument. 
What major projects and policies is the conservancy focusing on in the future?
Maintaining preservation as a good for the city is very important. The focus is certainly now on affordable housing, which the city needs. But this puts a target on existing buildings to be torn down and puts a lot of pressure on the Landmarks Commission to prevent harmful development. We want people to understand why the city created a Landmarks Law and the Landmarks Commission and the good it does for the quality of life in the economy, and that we are not holding up affordable housing or redevelopment. We are a good that should be considered so the city does not lose its individual identity. That it doesn't lose neighborhoods and buildings that are contributing to the quality of life today. I think people understand the value of preservation, but you have to keep reminding elected officials of the good and that we are part of the solution, not the problem.
It's an honor to be a preservationist in New York. It's the most exciting place to be a preservationist. And New York is worth fighting for.