Personality
What New York City bus routes should be free?
Check out this unscientific poll by New York Nonprofit Media's sister news site City & State on where readers want the MTA to see fare-free bus routes, one in each borough, under new pilot program.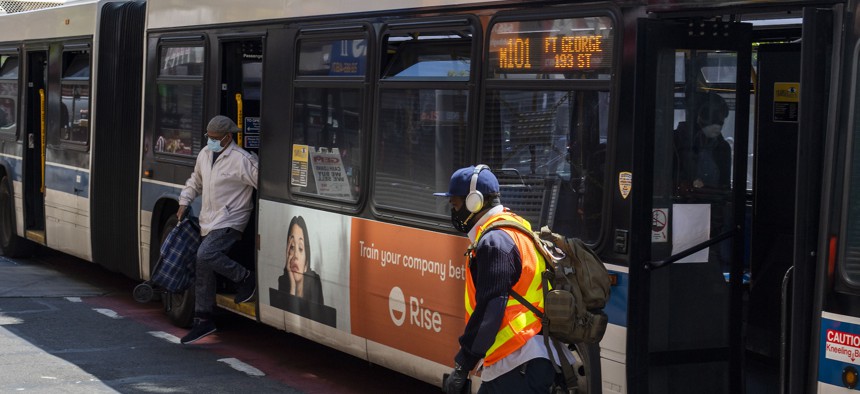 The Bx12 bus in the Bronx, M101 bus in Manhattan and B41 bus in Brooklyn are among the bus routes that readers at New York Nonprofit Media's sister site City & State believe should be made fare-free, according to our unscientific poll.
In response to progressives like Assembly Member Zohran Mamdani pushing to eliminate fares on all buses, the Metropolitan Transportation Authority announced a pilot program that will last six to 12 months to make one bus route in each borough free. The agency has not announced which bus routes will be free, but our readers have some ideas about which ones should be.
A few respondents said that all buses should be free (or at least all crosstown buses), while a few others insisted that no buses should be free. But most people picked bus lines that they would like to see included in the MTA's fare-free pilot program.
The bus route that received the most votes across all five boroughs was the Bx12 (and Bx12-SBS), a crosstown route that runs through the northern Bronx from Manhattan's Inwood to Co-Op City. "The Bx12-SBS consistently has some of the highest ridership in the entire bus network and forms a vital east-west connection through the Bronx for essential workers and fare-burdened riders," wrote one survey respondent.
In Manhattan, the East Side buses dominated the survey. The M101 (which runs along Third Avenue), the M15 (traveling mostly on First Avenue) and the M103 (running mostly on Lexington Avenue and Third Avenue) received the most votes. "We should prioritize long routes and ones which reach areas of each borough which are often ignored," wrote one respondent who voted for the M101. Another popular choice was the M60, which runs between Harlem and LaGuardia Airport. "It is the introduction to NYC for many coming in from LGA," wrote one respondent who chose the M60. "Let's get visitors to NYC convinced to use our mass transit system and get them off our streets."
In Brooklyn, the clear winner was the B41 bus, which runs between Downtown Brooklyn and Marine Park in southern Brooklyn. "I tried to select bus lines that help connect the most distant parts of the boroughs, that (bring) free transit to transit deserts and where (fare-free) options would make a difference in the pocketbooks of bus riders," wrote a respondent who chose the B41.
In Queens, the most popular routes were ones that connected multiple boroughs and transit centers, including the Q32 (which runs from Jackson Heights to Manhattan's Penn Station) and Q44 (from Jamaica to the Bronx Zoo).
Bus routes in Staten Island received the least number of votes. "No idea on Staten Island frankly, so (I) chose one that went through the less wealthy areas (I think?)" admitted one respondent who chose the S62, which runs from the St. George Ferry Terminal to the Travis-Chelsea neighborhood.